Pea and oat trial in Upper Peninsula completed — Part 2: Feed quality
A replicated trial of four oat and pea combinations showed difference in feed quality between oat varieties.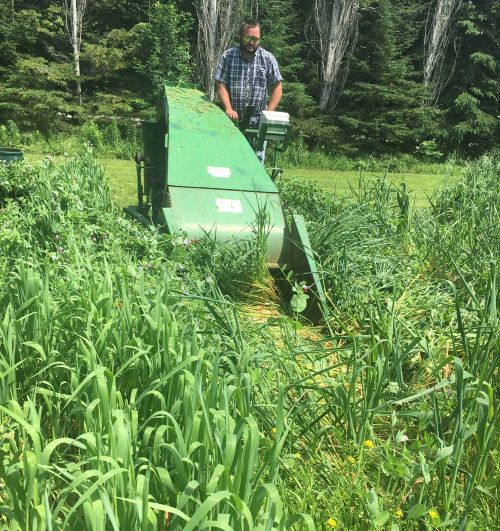 Oat and pea forage is planted widely across Michigan's Upper Peninsula region as a nurse crop for perennial forage seedings and as a stand-alone annual forage crop. The objective of this Michigan State University Extension research project was to evaluate performance and harvest times of four forage oat varieties in combination with 4010 forage peas under Upper Peninsula growing conditions.
This project was funded by the MSU Project GREEEN Research Fund. For more information on the research methods and materials, read "Pea and oat trial in Upper Peninsula completed – Part 1: Yields."
Weather in 2017 was abnormally variable with record rainfalls and cooler temperatures (Figures 1-2). Weather data was retrieved from the Escanaba Enviroweather station and summarizes the annual rainfall and heat accumulation during the pea and oat growing season (April- July). The heat accumulation was behind across most of the Upper Peninsula with the exception of the most southern parts. Rainfall accumulation was 5.5 inches greater this season compared to the last six-year average.
Since this trial only evaluated one year's worth of data, the impact of weather on the results cannot be ignored.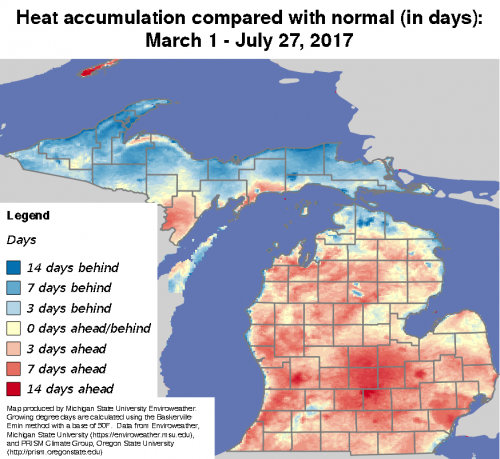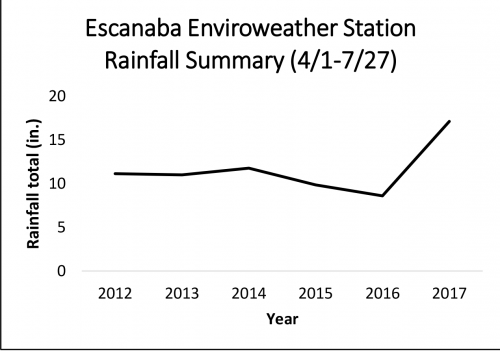 Oat varieties planted included Ogle, Goliath, Forage Plus and Everleaf 126. The first harvest was taken when the forage peas were in the flat pod stage, July 10 in Manistique, Michigan, and July 17 in Chatham, Michigan. The second harvest occurred when the peas were in the round pea stage, July 19 in Manistique and July 27 in Chatham. Yield and quality results are summarized below.
When looking at variety selection, oat variety Everleaf 126 was found to have greater relative feed value and digestibility regardless of harvest time (data not shown). Since this was the only significant result found for variety by harvest, the remainder of this article will concentrate on harvest time and variety.
Everleaf 126 was more digestible and had higher protein and sugar content compared to the other varieties (Table 1). Pea and oats harvested early had greater crude protein, digestibility and relative food value (RFV) (Table 2). Table 2 also shows data collected by a South Dakota State University (SDSU) research project that looked at a single-year of early and late harvest of peas and oats. Similar to our results, SDSU's early harvest had less yield but higher nutrient content.
Table 1. Compares yield and nutritional value of four pea and oat combinations averaged across early and late harvest dates.

Pea/oat
combinations

DM %

Yield,
DM tons per acre

Crude protein,
% of DM

Neutral detergent
fiber, % DM

Acid detergent
fiber, % DM

Total digestible
nutrients, % DM

Sugar, water
soluble carbohydrates

Ash,
% DM

RFV

Everleaf

18

3.0

52*

35*

66*

7.7*

102*

Forage+

18

2.9

10.7

58

38

62

9.0

7.6*

92

Goliath

20*

3.0

9.8

59

39

60

9.7

7.0

89

Ogle

20*

3.2

10.2

57

38

61

10.3

7.0

94
*Means within columns followed by an asterisk are significantly different at the 0.05 level.
Table 2. Compares early and later harvest times of pea and oat forages.

Pea/oat
forages

Yield,
DM tons
per acre

Crude protein,
% DM

Neutral detergent
fiber, % DM

Acid detergent
fiber, % DM

RFV

Early harvest

Peas/oats

2.9

12.0

56.1

36.7

98

Peas/oats1

1.7

19.2

46.9

28.7

136

Late harvest

Peas/oats

3.1

9.0

57.4

38.2

90

Peas/oats1

3.3

13.8

53.2

32.8

114
1 "Oats and Peas as Alternative Forage" by SDSU
Please keep in mind this data only represents one growing season from two locations. Further exploration into oat variety selection is planned for 2018. For more information on the trial, please contact Monica Jean at atkinmon@anr.msu.edu or Jim Isleib at isleibj@anr.msu.edu.
Other articles in series