Peach harvest dates available on MSU Enviro-weather
New Enviro-weather tools help growers estimate when different peach varieties mature.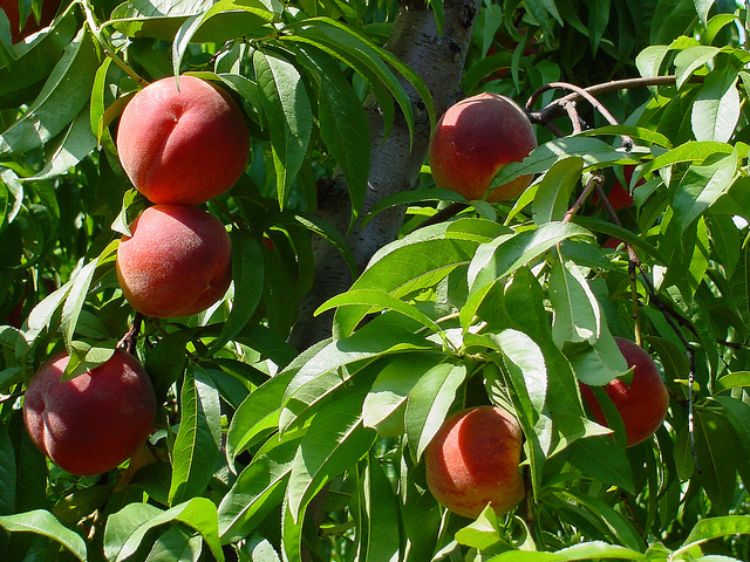 The harvest date for a particular peach variety can vary as much as three weeks, depending on the year. For growers, packers, shippers, marketers and peach lovers, the uncertainty of when a peach variety will harvest can be a problem. There are two new tools on Michigan State University Enviro-weather specifically for peaches that will help. One tool provides estimated peach harvest dates for 76 varieties at a single location and the second tool gives regional peach harvest estimates for three typical varieties for all weather stations in a region.
These tools are based on the work of Michigan State University Extension senior specialist Bill Shane, who tracked the harvest dates of Redhaven peaches since 1995 and is based on accumulated degree-days since Jan. 1, base 50 degrees Fahrenheit.
Using the new peach harvest tool
Go to the Enviro-weather website and select the station location closest to you by clicking on a yellow dot.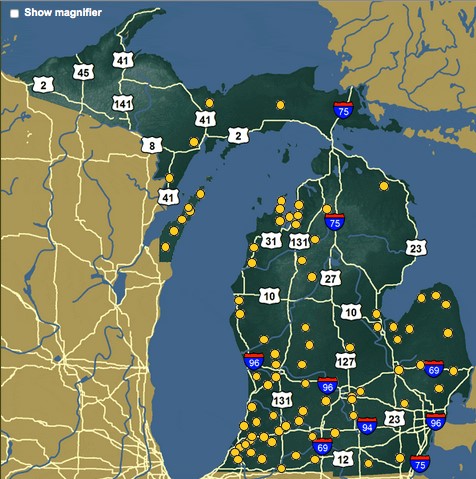 In the light green bar at the top of the page you will see a list of commodities. Click "Fruit."

In the left-hand column is a list of crops. Under "Tree Fruit," click "Peach." You will see two different peach maturity tools available: Peach harvest estimates (all varieties) and Regional peach harvest estimates (three reference varieties).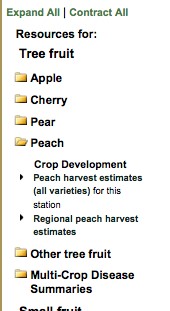 The peach harvest estimates (all varieties) tool will list the estimated harvest date at that station location for Redhaven and most other varieties. If you click on this option, you will see a table similar to the image of the partial table below. The estimated harvest date is shown for each variety. Because this tool uses Redhaven as a reference variety, the harvest relative to Redhaven is also shown in number of days. You will notice that some of the varieties have an asterisk (*) next to their name. This indicates the variety is relatively new and thus the harvest estimate is more tentative.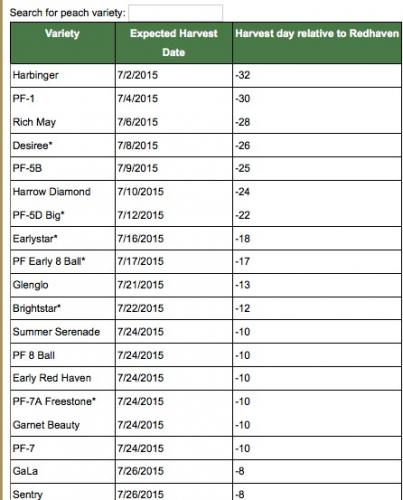 The other peach harvest tool is the "Regional peach harvest estimates." If you click on this option, you will see a table that lists estimated harvest dates for the midseason Redhaven variety, a typical early variety and a typical late season variety. Harvest dates are shown not only for the selected station, but also for all other stations in the region. This allows growers to quickly assess any geographical variation in estimated harvest dates.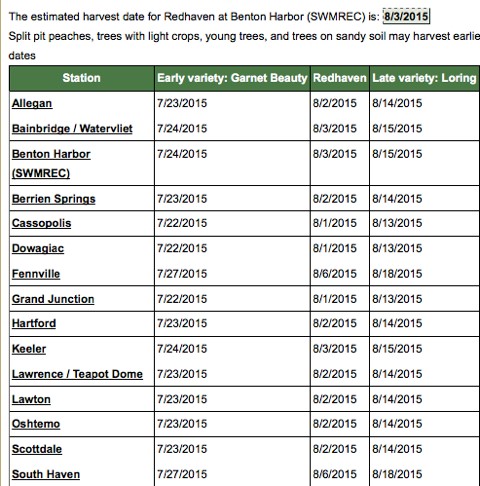 We hope these new peach harvest tools prove useful to peach growers and others. If you have questions, comments or concerns, please contact me at 517-432-6520 or eweather@msu.edu.
We wish to thank Bill Shane for providing us with the needed information to produce this tool and for his continued feedback during its development. Funding for the development of this website tool was provided by a USDA NIFA Extension Integrated Pest Management grant.