Peaches in west central Michigan are in good condition heading into 2019 growing season
Spans of subzero temperatures across the state in the second half of January have not significantly impacted peach growers in west central Michigan.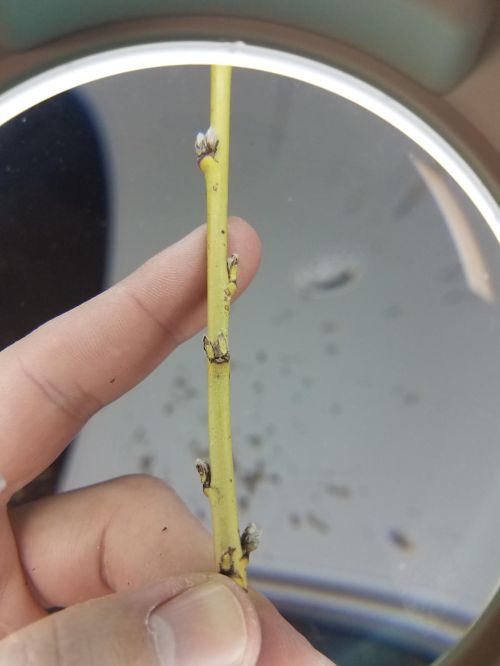 Overview
Subzero temperatures visited Oceana and Mason counties several times in the second half of January 2019. While temperatures were not cold enough to cause damage to apple or tart cherry acreage, there was some concern among peach growers that the crop may have been impacted by these conditions.
Peach flowers generally start to experience damage at temperatures between -10 and -13 degrees Fahrenheit, depending on the weather that precedes the cold event, the duration of the cold event and the variety of peach. Vegetative tissues on peach trees are generally hardy to about -20 F, so the concern among peach growers in west central Michigan was not towards the health of the trees themselves but rather to the health of the flowers that will become the 2019 crop. Note that the temperatures mentioned as thresholds above refer to ambient temperature, not windchill temperature. Trees do not experience windchill in the way humans do, so we typically refer to ambient temperature when talking about conditions a tree experiences rather than windchill temperature.
The cold was most intense on four days in January: Jan. 20, 21, 30 and 31. These four dates are when damage to the crop would have been most likely. While the Michigan State University Enviroweather stations in the region did not generally record temperatures below -10 F, there were local reports from farmers using personal weather monitoring equipment of temperatures in colder spots that dipped well into this range, leading to some concern of damage.
Below is a readout from the MSU Enviroweather station at Elbridge/Hart over that time span. Other local Enviroweather stations reported similar data in this timeframe.
Minimum and maximum temperature at the Elbridge/Hart MSU Enviroweather station between Jan. 19, 2019 and Feb. 4, 2019. Stations around west central Michigan reported similar temperature ranges.

Day

Date

Min. temperature (F)

Max. temperature (F)

Ave. temperature (F)

Sat

1/19/2019

3.4

21

12.2

Sun

1/20/2019

-4.9

13.3

4.2

Mon

1/21/2019

-8.6

13.5

2.5

Tue

1/22/2019

7.8

24.6

16.2

Wed

1/23/2019

23.4

27.8

25.6

Thu

1/24/2019

13.5

24.8

19.1

Fri

1/25/2019

1.9

14.1

8

Sat

1/26/2019

-4.3

12.4

4.1

Sun

1/27/2019

-2.9

12.3

4.7

Mon

1/28/2019

-1.3

13

5.8

Tue

1/29/2019

-4.4

10.7

3.1

Wed

1/30/2019

-8.1

2.3

-2.9

Thu

1/31/2019

-7.3

2

-2.7

Fri

2/1/2019

-3.5

13.9

5.2

Sat

2/2/2019

12.1

37.4

24.7

Sun

2/3/2019

36.3

42.1

39.2

Mon

2/4/2019

32

46.6

39.3
Methods
On Feb. 21 and 22, 2019, a survey of prominent peach varieties grown in west central Michigan was conducted by MSU Extension across the region. Fifteen to 20 fruiting branches were selected from across each orchard, spanning the lowest spot in each field to the highest. One hundred fruit buds per location and per variety were opened and examined under a dissecting lens for damage to flower tissues, and the percent of living flower buds for each variety and location was expressed as a percent out of 100.
The results are recorded in the table below.
Live flower buds out of a 100-bud count at peach sites in west central Michigan by variety and location.

Variety

Location

Live flower bud percentage (out of 100 buds)

Arkansas9

Clay-Banks township

98%

Arkansas9

New Era

90%

Catherina

Clay-Banks township

84%

Catherina

Mears

97%

Catherina

Elbridge

100%

Venture

Benona

99%

Venture

Hart

96%

Venture

Elbridge

97%

Babygold5

Hart

98%

Babygold5

New Era

84%

Babygold5

Walkerville

94%

Redhaven

New Era

95%

Redhaven

Hart

98%

Redhaven

Hart

97%

Redhaven

Hart

99%

Redhaven

Hart

90%
Discussion
These data demonstrate that despite some very cold weather over the past six weeks, the peach crop generally looks to be in excellent condition in west central Michigan. Minimal damage was observed at all sites and varieties. Both fresh market and processing peach producers in this region of Michigan should still be in good shape heading into 2019 and will continue to hope for a forgiving spring and optimal summer. Although the temperatures in the second half of January were colder than usual and caused some concern, they generally did not dip into the range that would have resulted in damage to the industry.