Poinsettias add color to your holiday decor and are nationally recognized on Dec. 12
While red is the perennial favorite, poinsettias come in an abundance of colors and they are grown in Michigan.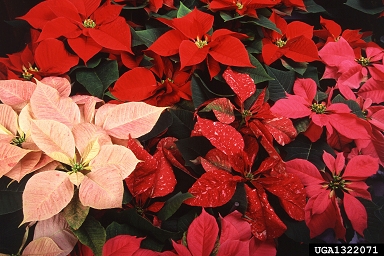 Wednesday, Dec. 12, is National Poinsettia Day. Joel Roberts Poinsett discovered the plant in southern Mexico and introduced it to his hometown of Charleston, S.C., in 1828. Poinsett, a physician, botanist and the first U.S. Ambassador to Mexico died on Dec. 12 in 1851. For additional historical facts visit the University of Illinois Extension, the Poinsettia Pages.
The plant, Euphorbia pulcherrima, is a member of the Euphorbiaceaeor Spurge family. Once considered a weed, in nature poinsettias are perennial flowering shrubs that can grow up to 10 feet tall in temperate coastal climates. In Michigan, the plant is enjoyed as a potted indoor plant that requires water; bright, but indirect sunlight; and 60 to 70 degrees Fahrenheit temperatures. To help consumers select and care for their poinsettia, Michigan State University Extension has published a poinsettia care tip sheet.
With more than 100 varieties of poinsettias, consumers are guaranteed to find a favorite. Perhaps it will be the traditional plant with bright red bracts or maybe one a little more unique like 'Winter Rose.' Whatever the choice, poinsettias are the best-selling flowering potted plants in the United States and Canada and contribute over $250 million dollars to the U.S. economy through retail sales. Michigan ranks seventh in the nation in poinsettia production and the state's 54 growers will produce 2.3 million poinsettia plants this year.
Celebrate National Poinsettia Day on Dec. 12 by purchasing a Michigan grown poinsettia that will add color and beauty to your home during the holidays. And celebrate Michigan growers by purchasing a plant grown in the state. Simply check the label for its Michigan origin; look for plants with the "Make it a Real Michigan Christmas" sticker; or ask the retailer if the plant was grown in Michigan.
Photo: Scott Bauer, USDA Agricultural Research Service, Bugwood.org