Pollinator health meetings to be held in Traverse City, Frankenmuth and West Olive
Michigan State University Extension will hold three public input meetings in April and May 2018 focused on pollinator health.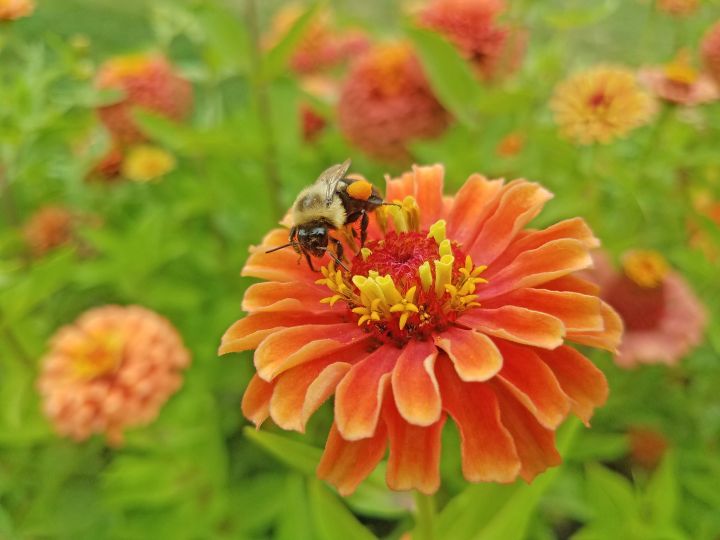 Are you interested in supporting pollinator health in Michigan? Local Michigan State University Extension educators are partnering with MSU researchers to create three Pollinator Health Meetings this spring to discuss projects MSU and the opportunities in your area for supporting pollinators. This is part of a three-year, U.S. Department of Agriculture (USDA)-funded project that aims to support honey bees, wild bees and monarch populations across Michigan.
We are looking to have constructive discussions with beekeepers, growers, conservation districts, land managers, utility companies, road and drain commissions, and others with the potential to support pollinator health. Please join us for a short presentation of current projects, followed by a discussion with Extension educators and researchers on how we can support and build local efforts towards pollinator health in your region.
Each of these meetings will last for 2 hours and have a similar schedule. The event will open with sign-in and a short introduction, followed by a research update presentation by MSU staff, followed by time for a discussion of the locally-relevant approaches to improving pollinator health. We are looking for input from a range of local stakeholders interested in improving pollinator health and conservation.
The meetings are free, but registration is requested so we may adequately supply materials and refreshments. The dates and locations for these meetings is listed below. Please go to Pollinator Health Meetings to register for the meeting of your choice. For more information, email or telephone the contact person listed for the meeting locations below:
Date: April 16
Time: 6 – 8 p.m.
Location: Northwest Michigan Horticulture Research Center, 6686 S Center Hwy, Traverse City, MI 49684
Contact: Duke Elsner, 231-922-4822, elsner@msu.edu
Date: April 17
Time: 12 – 2 p.m.
Location: Saginaw Valley Research and Extension Center, 3775 S Reese Rd, Frankenmuth, MI 48734
Contact: Ben Phillips, 989-758-2502, phill406@msu.edu
Date: May 9
Time: 6 – 8 p.m.
Location: Board Room at the Ottawa County Fillmore Complex, 12220 Fillmore Street, West Olive, MI 49460
Contact: Carlos Garcia-Salazar, 616-994-4580, garcias4@msu.edu
Did you find this article useful?
---
You Might Also Be Interested In