Post-bloom fungicide choices in blueberries
Controlling different diseases calls for a change in fungicide choice.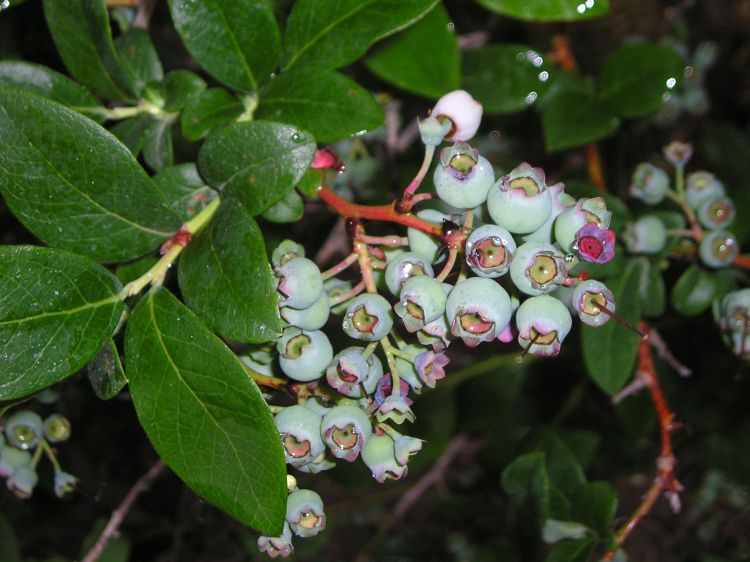 Early in the season, blueberry growers focus on controlling mummy berry and Phomopsis. Dormant and delayed dormant sprays of Lime sulfur or Sulforix aimed at these diseases also serve to reduce inoculum of fruit rot pathogens overwintering on infected twigs and remnants of last year's fruit clusters.
Before and during bloom, fungicide protection is focused on preventing mummy berry flower infections. After bloom, there is no risk of further mummy berry infection. However, some of the fungicides used against mummy berry also have efficacy against fruit rots. In addition, bloom to early fruit set is also good time for management of anthracnose fruit rot because the pathogen becomes active at that time.
After bloom, the disease control strategy changes to protecting green fruit and young shoots. Later in the summer and early fall, protecting leaves may also be needed for controlling leaf rust.
Green fruit are susceptible to fungal diseases such as anthracnose, Phomopsis and Botrytis, the latter if the weather is excessively wet with high humidity. With respect to anthracnose fruit rot, some cultivars are resistant to the disease, e.g., Elliott, Draper, Liberty and Legacy, and won't need as much protection as susceptible cultivars (e.g., Bluecrop, Bluetta, Blueray, Jersey).
Alternaria fruit rot becomes more of a concern when berries start to ripen, particularly in the cultivar Bluecrop. Be sure to change the mode of action of your fungicides to include these diseases and reduce the likelihood of fungicide resistance occurring in blueberries.
A recent survey has shown evidence of strobilurin resistance in the anthracnose fruit rot pathogen in Michigan. Thus, it is important to alternate fungicides with different modes of action and not rely solely on strobilurins for anthracnose fruit rot control. The anthracnose fruit rot prediction model on the Michigan State University Enviroweather website can also help improve fungicide spray timing.
Fungicide efficacy against fruit diseases in blueberries
Fungicide
Disease controlled
Trade name
Active ingredient
FRAC
Phomopsis
Anthracnose
Alternaria
Botrytis
Systemics
Abound
azoxystrobin
11
Fair
Good / Excellent*
Good
Poor
Pristine
pyraclostrobin + boscalid
11/7
Good
Excellent*
Good
Good*
Quilt Xcel
azoxystrobin + propiconazole
11/3
Good
Good
Unknown
Unknown
Omega
fluazinam
3
Unknown
Good
Fair
Unknown
Quash
metconazole
3
Good / Excellent
Good
Good
Fair
Proline
prothioconazole
3
Good / Excellent
Fair
Unknown
Fair
Tilt
propiconazole
3
Good
Unknown
Unknown
Unknown
Inspire Super
difenoconazole + cyprodinil
3/9
Good
Unknown
Unknown
Good
Luna Tranquility
fluopyram + pyrimethanil
7/9
Unknown
Fair /Good
Fair / Good
Excellent
Switch
cyprodinil + fludioxonil
9/12
Poor/Fair
Good
Excellent
Excellent
Aliette
fosetyl-Al
33
Fair / Good
Good
Good
Unknown
Phostrol
phosphorous acid
33
Fair / Good
Fair / Good
Fair / Good
Unknown
Protectants
Double Nickel
Bacillus amyloliquefaciens
44
Fair
Unknown
Unknown
Fair
Serenade
Bacillus subtilis + terpene-based sticker- extender
44
Fair
Poor
Poor
Fair
Nu-Film
Oso or PhD
polyoxin-D zinc salt
19
Unknown
Poor
Poor
Good
Copper (various products)
copper
M1
Poor / Fair
Poor / Fair
Poor / Fair
Poor / Fair
Sil-Matrix
Potassium silicate
NC
Fair
Good
Unknown
Unknown
Captan
captan
M4
Fair
Fair / Good
Poor
Fair
Ziram
ziram
M3
Good
Good
Fair
Fair
Vacciplant
laminarin
NC
Unknown
Unknown
Unknown
Unknown
Protectant and systemic mixtures
CaptEvate
captan + fenhexamid
M4/17
Fair
Fair
Poor
Good / Excellent
*If fungicide resistance is present, this product may be less effective than indicated.
Dr. Schilder's work is funded in part by MSU's AgBioResearch.