Potential loss from wildland fire is more of a widespread threat than just "forest fires"
Any time there is an extended dry or drought period the threat of wildland fire exists as long as enough combustible materials have accumulated.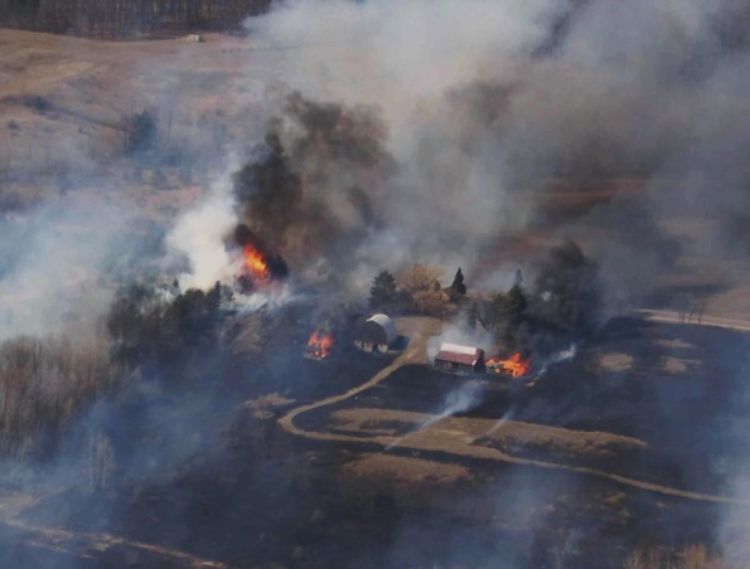 Many of us are familiar with the Smokey Bear "Only you can prevent wildfires" campaign; or for the older among us, the original "…prevent forest fires" message. Through this long-running effort, which began in 1944, many of us only think that forest fires pose a threat when they rage out of control.
The reality of wildland fire is that it is more widespread. In addition to forests; grasslands, brush, swamps, cropland, dune areas and even some unmaintained urban areas pose a threat to our homes and communities if a wildland fire gets started. Extended dry periods with any kind of adequate fuel loads pose a threat from wildfires.
These wildland fires do not need to be in close proximity to our homes to cause alarm. Firebrands, or windborne hot embers, can travel a mile or more downwind from wildfires and ignite new fires if they land in dry combustible materials. The loss of homes or structures from a grass fire is just as painful of an experience for owners as a similar loss from a forest fire. Regardless of whether it is a farm, individual home or even an entire community, resident owners should be taking precautions to avoid loss if they are anywhere in the vicinity of areas where enough fuel has accumulated to pose a threat.
Michigan State University Extension maintains two websites that can help homeowners be better prepared for threatening wildland fires. The MSU Extension Wildfire and Firewise website has links to Michigan wildfire history, risk area assessment maps, background on the national Firewise Communities program and much more. There is also a link to resources, publications and educational materials that can be of assistance in assessing risk and helping minimize the chances of a structure loss. The MSU Extension Firewise Facebook page also has information on wildland fire activity in the state, current alerts and programming from around the state updated weekly.