Preparing for adulthood makes a difference to youth with 4-H Future Squad Club
Club program allows youth to gain "adulting" skills while connecting with others.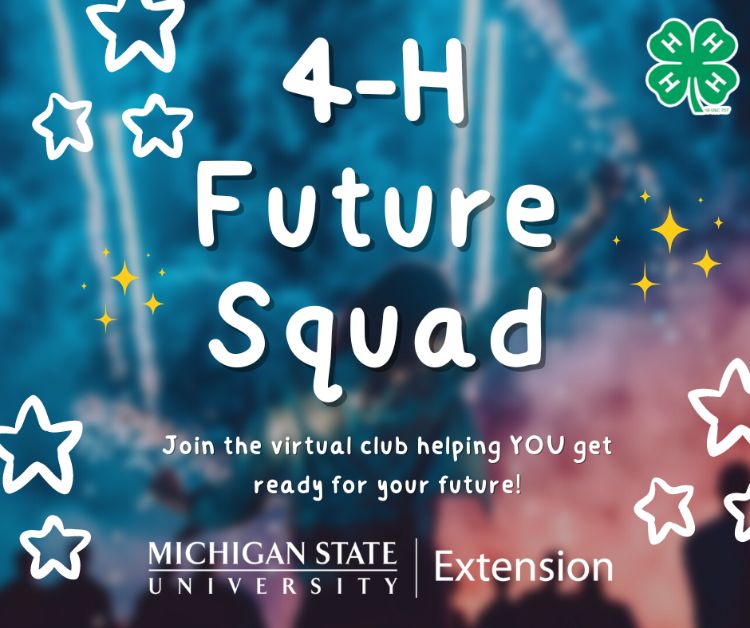 The 2021-2022 4-H year brought a new opportunity for youth to take part in a 4-H club founded entirely in youth voice. Sponsored by the Ralph C. Wilson, Jr. Foundation, the Generator Z grant took stories from teens on what they wanted in after-school programming and made it a reality. Michigan State University (MSU) Extension 4-H Youth Development utilized the after-school ideas shared by the youth and developed a program to focus on learning important skills for the future. Relationship-building and connection were also key components asked of by the youth.
As part of the 4-H Future Squad club:
22 youth enrolled as new 4-H members, connecting to the program for the first time
36 virtual meetings were held covering topics such as budgeting, sewing, resumes, time management, stress management, nutrition, ethics, scholarship, travel, debt, goal setting, networking, public speaking and sustainable living
52 youth participated in at least one 4-H Future Squad meeting with 24 youth attending 6 or more meetings
5 youth attended MSU Extension's pre-college program, 4-H Exploration Days, on scholarships from the Generator Z grant
A youth planning committee helped guide the meeting topics and provided helpful feedback on the club progress
And the 4-H Future Squad made a difference to the young people involved. Youth shared feedback such as:
I'm very glad I joined the 4-H Future Squad. I genuinely feel that it helped me prepare better for my future and learn new skills. I loved my instructors and the care and time they put into making everyone feel welcomed and safe. I hope this program continues into the future and I will join again if it does. Thank you so much for a wonderful year!
[My biggest takeaway from this program was] knowledge on how to survive the future.
[My biggest takeaway from this program was] that I can do things that matter now, I don't have to be an adult.
[My most enjoyable or favorite part of this club was] interacting with other youth from other areas.
I liked meeting new people and having opportunities that I wouldn't have if I wasn't involved.
[My favorite things about being involved in 4-H Future Squad was] the way we communicated with each other and learned a lot of things together.
Meeting youth needs for connection and life skills for their future leads to successful outcomes. Most importantly, asking youth what they want and need for their own future makes for an even better program.
The 4-H Future Squad club is open to new members, aged 12-19, for the 2022-2023 4-H year. Prospective members are interested in actively participating in a virtual club that will enhance their skills for the future. Youth can complete an Interest Form off the website to receive details on how to enroll.
Michigan State University Extension and Michigan 4-H Youth Development help to prepare young people for successful futures. As a result of career exploration and workforce preparation activities, thousands of Michigan youth are better equipped to make important decisions about their professional future, ready to contribute to the workforce and able to take fiscal responsibility in their personal lives. For more information or resources on career exploration, workforce preparation, financial education, or entrepreneurship, contact 4-HCareerPrep@msu.edu.