PSM Produces new crop of graduates
The Bonito, Chichy, Hausbeck, Miesel and Steinke Labs present PSM's most recent graduates.
Enjoy a sample of our latest and greatest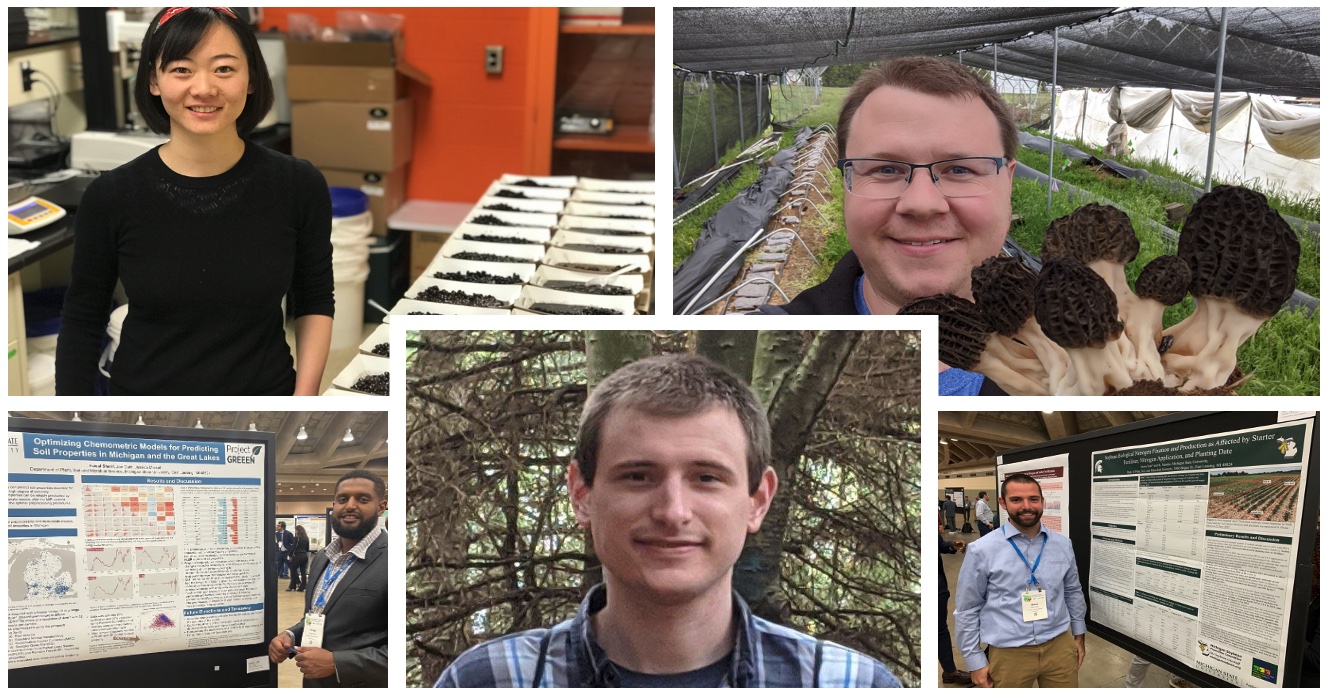 Bryan Rennick MS Bonito
"Truffles in Michigan: impacts of herbicides on their growth, effectiveness of in-field inoculations, and the discovery of a local truffle (Tuber rugosum)"
Bryan will continue to work in the Bonito Lab, managing daily operations and the mushroom growing experiments
Matthew Uebbing MS Plant Pathology Research Lab Hausbeck
The title of my thesis is "Managing Cucurbit Downy Mildew On Pickling Cucumber Using Disease Forecasters and Fungicides"
After graduation, I will be staying in the Hausbeck lab full time as a field research technician with my future goal being to go into industry.

Weijia Wang PhD USDA-ARS Food Legume Quality Genetics Lab Cichy
"Enhancing Seed and End-use Quality of Organic Dry Beans through Genetic Improvement and Innovative Progressing Methods"
I will be working in the Cichy lab until June 28th. Then I will be heading to the University of British Columbia in Vancouver, Canada for a postdoc position working with organic carrot breeding and seeds development.


Faisal Sherif MS Fire and Ecosystem Ecology Lab Miesel
"Developing spectral libraries to determine key soil properties and soil health"
My summer plans will include building a commercialization roadmap and a client base to commercialize our research findings. My goal is to make these results available to researchers and soil testing laboratories to help improve soil health, reduce testing costs, and provide a more rapid assessment. Looking to the future, I hope to continue my work in this field and expand my research to other areas related to soil and environmental science.

Storm Stoat MS Soil Fertility and Nutrient Management Steinke
"Soybean Biological Nitrogen Fixation and Production as Affected by Starter Fertilizer, Nitrogen Application, and Planting Date"
I am going to work for Hasenick Brothers Farm in Springport, MI, where we farm just under 5,000 acres of corn, soybeans, wheat, and canola under an intensive no-till and cover crop system. I am also starting my own farm, and will be farming about 100 acres of corn this year.