Putting local food on institutional menus creates delicious opportunities to get the season's flavor
Beaumont Health System has embraced the opportunity to include Michigan fruit and vegetables on patients' plates and cafeteria options!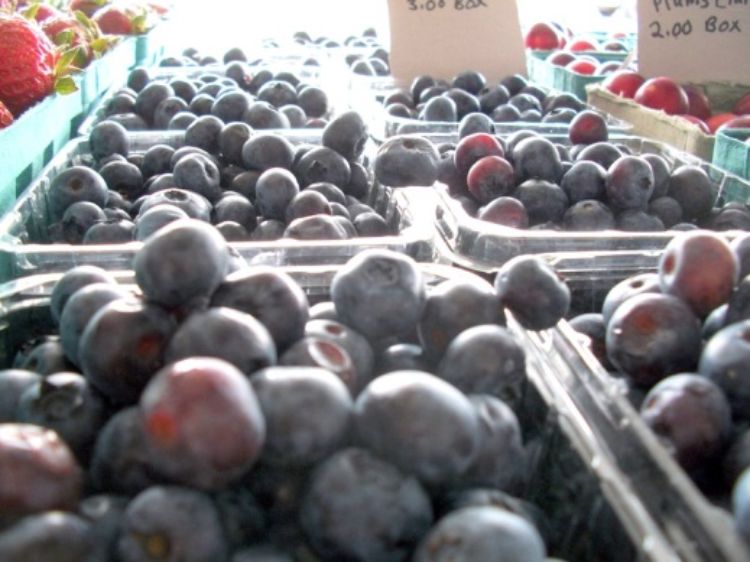 Staff, visitors and patients are getting the opportunity to taste a variety of Michigan produce at Beaumont Health System in Royal Oak, Michigan; Michigan blueberries are being included in familiar items like muffins and cobblers but they are also going to be found in more menu items both sweet and savory. Maureen Husek, Director of Nutrition and Retail Services at Beaumont Health System, has been buying Michigan blueberries for the institutional menus she creates. Husek has featured blueberries in menu items including wild rice with blueberries, chicken with blueberry compote, a fish with blueberry sauce, a blueberry salad dressing and even blueberry salsa. Blueberries are a great source of nutrients for only a few calories. One cup of fresh blueberries contains only 80 calories, 5 grams of fiber and 15 percent of the daily recommended intake of vitamin C.
Blueberries, a fruit native to North America, are grown in large quantities in Michigan. In fact, Michigan is the top producer of high bush blueberries nationally and provides one third of all the blueberries grown in the United States. Farms all over the state raise blueberries, but there is a particularly high concentration of the fruit grown in the southwestern part of the state. Although July is the season for fresh blueberries, much of the season's harvest is frozen or processed into a number of blueberry products.
Including Michigan-grown agricultural products on institutional menus is the goal of the Michigan Farm to Institution Network and their campaign, Cultivate Michigan. Cultivate Michigan is challenging Michigan institutions to pledge to source 20 percent of the food they serve from Michigan by the year 2020. Beaumont Health System, along with other hospitals, schools and universities are working to meet that pledge. Cultivate Michigan promotes one Michigan-grown product each season and provides resources for buying local produce from distributors, direct from farms and recipes for institutional menus. This summer, Cultivate Michigan is promoting Michigan blueberries.
Michigan State University Extension supports the growth and consumption of Michigan agricultural products through programs like the Michigan Farm to Institution Network and Cultivate Michigan.