Quick fruit update from Southwest Michigan
May 11 comments on mummyberry in blueberries and fire blight risk.
I have not found mummy berry shoot strikes yet but most of the trumpets have dried out so the number of spores must be very low. I think mummyberry control during bloom will be critical.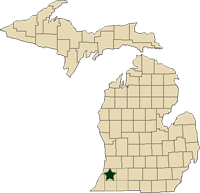 Southwest Region
The fire blight risk today is high and rain might result in an infection if you have open apple blossoms.
Apple bloom is just starting but several growers have reported that the flowers are opening rapidly.
I scouted for any signs of fire blight Monday (May 9) and found none. I was surprised that after all the rain I found no oozing cankers.
So the amount of bacteria in the orchards must be very low. It takes time for the bees to move the bacteria to the flowers. Under these conditions the bacteria will multiply rapidly once they are on the flowers. I am more afraid of the end of this warm spell when we get the rains as a cold front moves back over us.
Be aware that if you use the fireblight tool on Enviro-weather, you might think the model is not resetting to zero when you enter a spray date. The temperatures are so high that sprays are giving you only one day of protection and the bacteria population has rebounding almost all the way to infection levels after the spray. If you are planning on using Kasumin, You need to use another material for the first bloom spray.
I will be updating my Code-A-Phone daily until the end of apple bloom whenever the risk of fire blight is high. The phone number is 269 657-8217.