Ray Gurley
As Director of Sustainable Forestry Initiative (SFI) and Forest Policy at the Michigan Forest Products Council, I work to advocate for Michigan's largest landowners and fiber sourcing mills in developing state forest policy.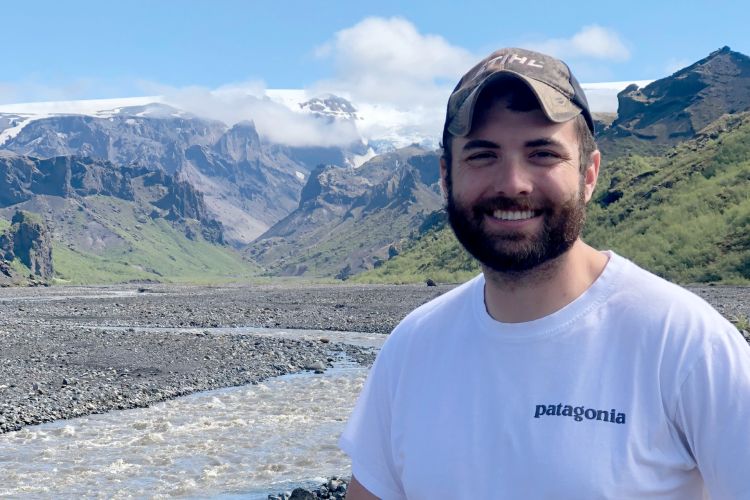 "Whatever you choose to do at MSU, do everything with all your heart and fill your time with people, events, and experiences to last a lifetime."
As a child, I spent a lot of time outdoors with my mom and dad hunting small game, fishing, collecting mushrooms, raspberries, and blackberries as we had 50 acres of woods where I grew up in the Saginaw valley. I always really liked chopping wood. When I was 3 or so, I wandered around with a hatchet in the garage while my dad was working. I fell, topping a small portion of my right ear off, but it didn't put me off then! But when I really noticed I was interested in forestry was after I had been cutting trees in the same woodlot year after year. I began to notice changes in the residuals as they grew larger canopies, stems, and responded to the changing conditions. By the time I was 12 or 13 and had my own chainsaw, I was hooked. Once the sawdust gets in your veins, it doesn't get out.
While I was in high school, I was in Future Farmers of America (FFA) and had an SAE (Supervised Agricultural Experience) in Forest Management. I cut firewood and sold some pin oak pallet logs using a Stihl MS 270 chainsaw and an Allis-Chalmers C tractor. I also competed in Forestry Career Development winning the State event, and I went to the National FFA Convention in Indianapolis to take a gold pin in that event as well. I received a State Degree from the FFA upon graduation from High school. I also took plant science, animal science, automotive, welding, and woodshop classes as well as being dual enrolled in a Stream Ecology course at our local community college.
I met with Chair of the Department of Forestry Dr. Dan Keathley, when I was getting my FFA State Degree (I even had my FFA Jacket on in his office) and discussed getting into college as I was a first-generation college student. His guidance and assistance as well as from other faculty, is probably why I am where I am today in my career.
While in the Forestry program, I made sure to get involved. I was Maple Syrup Coordinator for two seasons with Forestry club, competed at the conclaves and woodchuck games, STIHL Timbersports series at Purdue and MSU when we hosted at the Mason fairgrounds, CANR Student Senate rep, and served as the Draft Horse Club Secretary. WHEW! Whatever you choose to do at MSU, do everything with all your heart and fill your time with people, events, and experiences to last a lifetime.
My second summer in college, Dr. MacFarlane rounded me up some work with Fei Pan in Biosystems and Agricultural Engineering performing time and motion studies, energy content, and rate of drying studies on woody biomass in the upper peninsula. That summer I lived at MSU's Forest Biomass Innovation Center (FBIC) in a farmhouse watching the mice scurry about when not working. Throughout the week the busy work was running a bomb calorimeter to measure the energy content in wood flour samples. My third summer, I landed a gig with the USFS out of the Raco, MI workstation on a silviculture crew. I was performing planting inspections and stand examinations, but I only spent half a season there because BTNF Engine 411 from Kemmerer, WY called me up. So, I went to WY for the remainder of the summer. I rolled on three Initial Attack hand crews and got my first helicopter ride into the Teton Wilderness to fight fire while watching the McCall smokejumpers come in to lend a hand! I worked for the USFS on Engine 411 for two years after college, then met my future wife…who tamed my wild ways.
I've been a wildland firefighter, an MSU forestry department grunt (thanks Dr. Kobe!), a conservation district forester, the sole land manager for 18,000 acres surrounding hydro-electric impoundments, a timber program analyst for the MDNR, and now I occupy my current role as Director of SFI and Forest Policy at the Michigan Forest Products Council. I work to advocate for Michigan's largest landowners and fiber sourcing mills in developing State Forest policy. It's my job to get everyone to understand that, even though we have different nuanced positions on resource management, we're all on the same team advocating for wise resource conservation. I also work to attract investment action in novel forest products industries as part of a collaborative team(s) with members from the Government, Academia, and industry representatives. Somewhere in all of that, I am the director of Michigan's SFI State Implementation Committee (SIC) working to direct SIC members' actions in a coordinated fashion to achieve our core priorities as an organization. I also train all of our Qualified Logging Professionals each year.
My favorite part of my job is the people I interact with! I really like performing the SFI Qualified Logging Professional training because I train ~1,400 individuals every year who are closest to the resource and its management. The training has invaluably changed the culture of the logging profession in Michigan since 1995 when SFI first came around. While I love my job, my dream is to run a giant sugar bush in the Keweenaw Peninsula, performing TSI during the off part of the year with a team of Percherons to have fuel for boiling while increasing the residual diversity and value of timber.
Your career is about what kind of lifestyle you want for yourself and your family (should you choose to have one!). If you decide forestry is the right fit for you, explore getting a minor in a related field such as hydrology, wildlife biology, geology etc. It will open more doors having a varied skillset and being adaptable is important. Talk to a consulting forester, an industry forester, and a government forester, they each have a different perspective to give. Most importantly learn to communicate effectively. You don't have to be perfect or know all the technical jargon, you can learn that on the job. But communicating and tailoring your message to the various audiences you'll encounter throughout your career is very important.