Real Christmas trees: History, facts and environmental impacts
Fun facts about real Christmas trees production and their impact on the environment.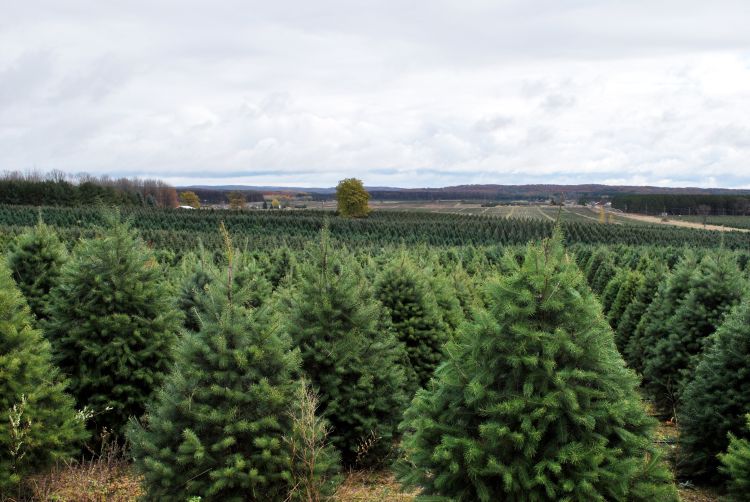 In this next article in a series about Christmas tree science, history and fun facts, we'll take a look at real Christmas trees and some of the facts surrounding the cutting of so many trees. Is it good or bad? Every year, I hear someone talking about not wanting to cut down a tree just to be used for a Christmas tree. I visited the National Christmas Tree Association website to look into some of the facts about the environmental impact of Christmas trees and Christmas tree production. According to the National Christmas Tree Association:
Real Christmas trees benefit the environment. While they're growing, real Christmas trees support life by absorbing carbon dioxide and other gases and emitting fresh oxygen. The farms that grow Christmas trees stabilize soil, protect water supplies and provide refuge for wildlife while creating scenic green belts. Often, Christmas trees are grown on soil that doesn't support other crops.
Real Christmas trees are renewable. Real Christmas trees are grown on farms just like any other agricultural crop. To ensure a constant supply, Christmas tree growers plant one to three new seedlings for every tree they harvest.
Real Christmas trees are recyclable. Real Christmas trees are biodegradable, which means they can be easily reused or recycled for mulch and other purposes. Learn about the many ways real Christmas trees are being recycled and reused in communities nationwide. Also, check out "Living Christmas trees: Another real tree option" by Michigan State University Extension for information on how to reuse your Christmas tree for several years.
Here are a few more fun facts about real Christmas trees:
Real Christmas trees have been sold commercially in the U.S. since about 1850.
The first Christmas tree retail lot in the United States was started by Mark Carr in New York in 1851.
From 1887-1933, a fishing schooner called the "Christmas Ship" would dock at the Clark Street Bridge in Chicago, Illinois, and sell spruce trees from Michigan to Chicagoans.
There are approximately 25-30 million real Christmas trees sold in the U.S. every year.
There are close to 350 million real Christmas trees currently growing on Christmas tree farms in the U.S.
Christmas trees are grown in all 50 states and Canada.
Michigan ranks third among all states in the production of real Christmas trees, but grows a larger variety of Christmas trees than any other state.
The top Christmas tree producing states are Oregon, North Carolina, Michigan, Pennsylvania, Wisconsin and Washington.
Real trees are a renewable, recyclable resource.
There are more than 4,000 local Christmas tree recycling programs throughout the U.S.
For every Christmas tree harvested, one to three seedlings are planted the following spring.
There are about 350,000 acres of Christmas trees growing in the U.S.
There are close to 15,000 farms growing Christmas trees in the U.S., and over 100,000 people are employed full- or part-time in the Christmas tree industry.
It can take as many as 15 years to grow a tree of typical height, which is 6-7 feet, or as little as four years. The average growing time is seven years.
The most common Christmas tree species are balsam fir, Douglas fir, Fraser fir, noble fir, Scots pine, Virginia pine and white pine.
Growing Christmas trees provides a habitat for wildlife.
An acre of Christmas trees provides the daily oxygen requirements of 18 people.
For more information on Christmas trees from MSU Extension, check out the following articles:
Other articles in series