Reflections of a 4-H member: Katie Kurburski
State Youth Leadership Council member Katie Kurburski shares how 4-H experiences broaden horizons.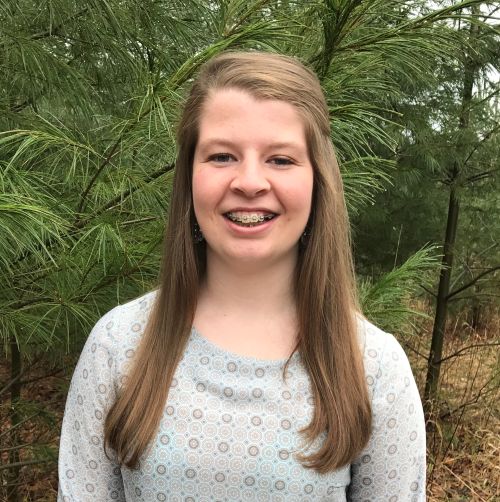 Katie Kurburski is an 18-year-old 4-H member in Harbor Springs, Michigan, who is wrapping up her second year on the Michigan 4-H State Youth Leadership Council. Through Emmet County 4-H, Kurburski participates in sewing, crafts, baking and leadership projects while also serving on the local 4-H advisory board.
In a unique program to Emmet County, Kurburski participates in the Crooked Tree Leadership program where she learns about tribal, state and local government systems. This article is one of a collection of articles features young leaders excelling in Michigan 4-H Youth Development programs hosted by Michigan State University Extension.
Jackie Martin (J): Tell me about the Michigan 4-H State Youth Leadership Council.
Katie Kurburski (K): State Youth Leadership Council is a group of active 4-Hers who are youth advocates around the state. We help spread the word of 4-H as well as help members evolve in this wonderful organization. We work at local, state and national level providing experiences and opportunities for others.
J: What impact has your participation in State Youth Leadership Council had on your life?
K: State Youth Leadership Council has provided me with an opportunity to take on a leadership role as well as to work on my public speaking. I can confidently say that within the two years I have been involved in the State Youth Leadership Council, I have grown substantially as a person on the inside and outside.
J: What has been your biggest take away from this experience?
K: My biggest take away has been getting to know others that are as passionate about 4-H as I am. I get to come together with many friends to discuss how to make things better for other youth and to take it back to our own counties. I have lasting friendships within the council and I am extremely thankful.
J: What other statewide or national 4-H programs have been especially meaningful for you? What difference did they make on your life as a whole?
K: On a national level, I got to attend National 4-H Conference. This experience was especially meaningful for me because I got to learn about how other states run their 4-H programs as well as bond with others from my state. This opportunity opened up my eyes because I had always thought there was only one way to approach something, but I was awfully mistaken. The things I learned became stepping stones for my local 4-H club as well as how I take on information.
J: If you were to give an aspiring youth leader some advice, what would it be?
K: You will eventually hit a wall in your journey that seems like a miracle to break through, but you must keep going because if you don't, then you will never see that outcome you dreamt of. It is important to have perseverance while taking on a leadership role because many people look up to you and you have to show them how to be confident and never give up.
J: Where do you go from here? What goals are you hoping to achieve in the next five or 10 years?
K: In the next five years, I plan to attend college and pursue a degree in pharmacy. I knew I wanted to help others like I do in 4-H, and this pathway was the perfect fit for me. In 10 years, I want to hopefully start a 4-H club of my own to pass on the skills I learned and the opportunities I had.
Michigan 4-H State Youth Leadership Council is a leadership opportunity for 15- to 19-year-old 4-H members across Michigan who promote and provide input for Michigan 4-H youth programs. For more information on State Youth Leadership Council or for information on how to apply for the 2018 council, contact Jackie Martin at marti623@msu.edu. Applications will open in September for the 2018 calendar year.
To learn about the positive impact of Michigan State University Extension and Michigan 4-H youth programs, read our 2016 Impact Report: "Developing Civically Engaged Leaders."
Other articles in series