Reflective writing in photovoice: Why writing about your visual story is important
Let's discuss the role of reflective writing in the visual storytelling process and three examples of reflective writing prompts.
Photovoice, using photographs to tell a visual story about strengths or opportunities in your community, is a really valuable tool. In "So you want to take a selfie? Use photovoice to tell your story," you learned about all the steps that go into a photovoice project. As noted, the final stage of photovoice is a community showcase, where you invite people in your community to come look at your photographs and talk with you. But what happens to your story after the showcase is over?
Using reflective writing prompts and including your written reflections with your photo display means your visual story can continue being told as you intended, even if you're not there. It also helps you process what your photograph means to you one last time. Reflective writing can help you engage your visual literacy one more time, to really be prepared to talk about your photograph as well.
The following are some prompts you can use to practice reflective writing about your photographs.
First things word list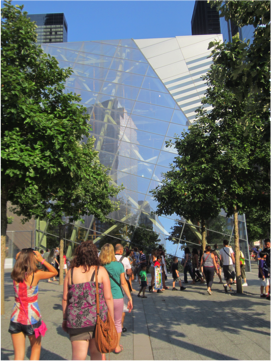 Look at your photograph and list all the words that come to mind. The important thing about this prompt is to not think too hard; just write down any and every word your photo inspires you to think. Remember, there is no right or wrong answer. If you need a place to start, begin by listing single words that describe what is physically depicted or happening in the photo.
Here's an example for the picture to the right: trees, people, outdoors, glass, crowds, buildings, exploration, tourists, gawking, concrete, remembering, remembrance, summer, city, green, visiting, guiding, removed, sadness, walking, talking, thinking, photographs, buildings, new, memorial, shock, survival, phoenix, responders, responding, war, planes, 9/11, where were you?
Sense poem
Complete the following sentences as you look at your photograph and think about the time you took it or what it represents to you.
I see...
I taste...
I touch...
I hear...
I smell...
I feel...
SHOWeD
This is a prompt that is a little less abstract than the previous two. Its components ask participants to think about your photograph in a way that can help facilitate some narrative writing. Answer the following questions and then display the responses without the questions in paragraph from.
What do I See here?
What is Happening in this photo?
How does it impact Our lives?
Why is it happening?
What can we Do about it?
Photovoice is a process that takes a significant amount of mental and emotional energy from participants. Using reflective writing to help process your experiences and photographs helps you self-identify your own learning and growth while ensuring your photo tells its intended story, even when you're not around to answer questions.
Please contact Makena Shultz at schul430@anr.msu.edu for more reflective writing prompts or more information on photovoice.
Michigan State University Extension and the Michigan 4-H Youth Development program help to prepare youth as positive and engaged leaders and global citizens by providing educational experiences and resources for youth interested in developing knowledge and skills in these areas. To learn about the positive impact of Michigan 4-H youth leadership, civic engagement, citizenship and global/cultural programs, read our 2015 Impact Report: "Developing Civically Engaged Leaders."
Other articles in series