Register now for the 2023 Crop and Pest Management meeting in Bad Axe
Join MSU Extension field crops educators for this in-person meeting on Monday, Jan. 9, 2023.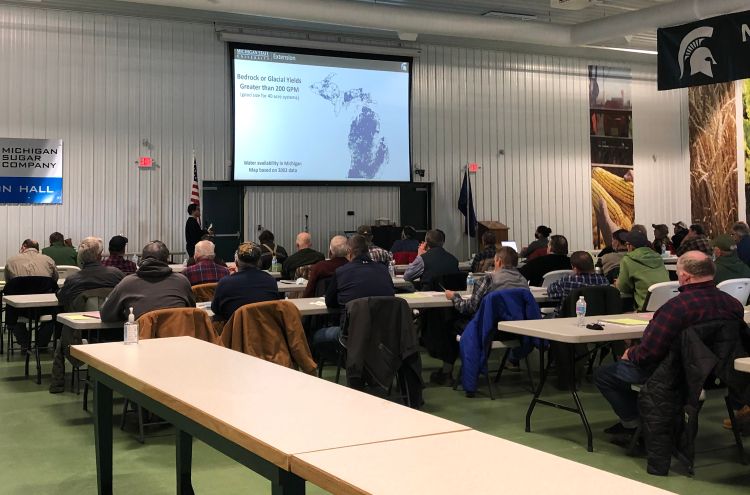 Michigan State University Extension and your local field crops educators will be hosting a Crop and Pest Management Update at the Franklin Inn, 1070 E Huron Ave., Bad Axe, MI 48413, on Monday, Jan. 9, 2023, from 8:30 a.m. to 3 p.m. This program has a registration fee of $40 per person, which includes lunch and a copy of MSU Extension bulletin E434, "2023 Weed Control Guide for Field Crops," compliments of Michigan Corn, Michigan Soybean Committee and Michigan Wheat Program.
Registration is required. Early registration will close Dec. 31. Please register early to ensure adequate food or to request special accommodations.
Register for the Jan. 9 Crop and Pest Management Update
Regional crop and pest management meetings are held every year to allow MSU Extension and the field crops team to bring the most recent research to you. This is a chance to interact with multiple MSU Extension specialists at one time.
The specialists speaking this year cover a wide array of topics. Erin Burns will present on the impacts of weather on weed control. Christy Sprague will speak on weed control. Chris DiFonzo will give an insect update. A presentation by Marty Chilvers will cover diseases in field crops. Maninderpal Singh will speak on agronomic management strategies and finally, wheat management will be presented by Dennis Pennington.
All attendees are eligible for five RUP credits and CCA credits.
For more information or help registering, please contact Shelly at the Huron County MSU Extension office at sowles@msu.edu or 989-269-9949.