Register today for the Great Lakes Aquatic Invasive Species Landing Blitz
Be part of a Great Lakes effort to raise awareness of invasive species with boaters July 1-July 10.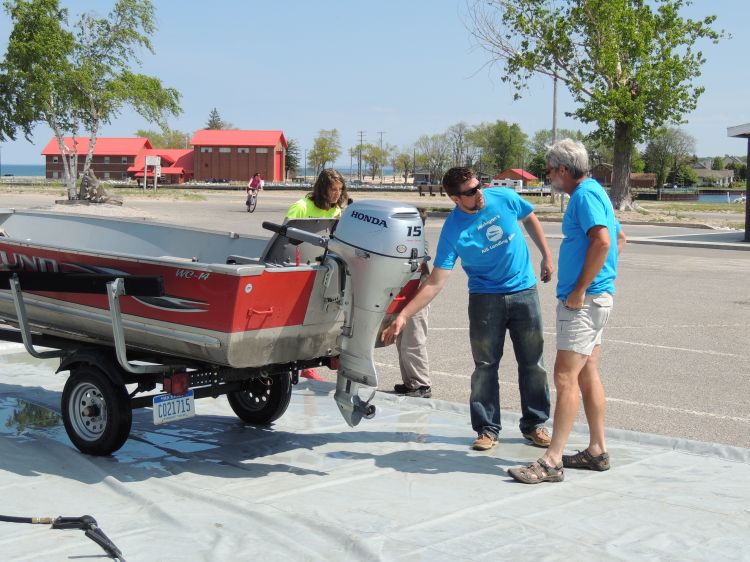 The Michigan Department of Environment, Great Lakes and Energy (EGLE) is looking for local partners to host educational events at boat launches during the 9th annual Aquatic Invasive Species Landing Blitz happening July 1 – July 10, 2022. Participating organizations will receive free educational materials to hand out to boaters and learn best approaches to communicating about invasive species. Every year conservation groups and volunteers across the Great Lakes host educational events over the Fourth of July holiday to educate boaters about aquatic invasive species and the value of cleaning, draining, and drying equipment to prevent their spread.
Register for the Landing Blitz
To participate reach out to Kevin Walters (waltersk3@michigan.gov) with EGLE and include the following information. Register by May 31, 2022, to receive educational materials.
Host name and affiliation (both individual host name and lake association, etc.)
Location (lake/waterbody, county, ramp location)
Date(s) and time for your local event(s). Organizations can choose any days between July 1 – July 10 to host an event.
Mailing address for outreach materials
Participation in the Landing Blitz is simple: register with EGLE to receive materials and gather a team of volunteers to assist with education at a local boat launch. Some boat launches require permission to host events. The day of the event, setup an educational booth and share invasive species materials. The most important message for volunteers to share with boaters and anglers is to clean, drain and dry boats, trailers and all equipment and gear after each use on any lake, river or stream to prevent the spread of aquatic invasive species. There is a schedule on the Michigan State University (MSU) Extension Clean Boats, Clean Waters Landing Blitz website of what volunteers can expect.
Don't have time to host an event, but want to educate boaters about invasive species? During the Landing Blitz week, the Great Lakes Commission, state agencies, and conservation groups across the Great Lakes region will be sharing "clean, drain, dry" messaging via press releases, local news stories and social media. Help promote awareness by sharing these stories with local organizations. Follow the Michigan Clean Boats, Clean Waters program on Facebook for clean boating tips throughout the summer.
Since 2014, MSU Extension has been teaming up with EGLE to host Landing Blitz educational events and collaborating on the Clean Boats, Clean Waters program. Part of the Clean Boats, Clean Waters program is a free, reservable Mobile Boat Wash. The Mobile Boat Wash is a trailer-mounted boat cleaning system which uses heated, high-pressure water that is effective in cleaning most invasive species from boats and trailers. A containment mat prevents runoff back into lakes and rivers. The Mobile Boat Wash is reservable throughout the summer and is a great addition to boater outreach events.