Register for the 2018 4-H/MMPA Milk Marketing Tour by May 25
Learn about milk marketing, co-operatives and a different side of dairy through the 4-H/Michigan Milk Producers Association Milk Marketing Tour held June 27-28.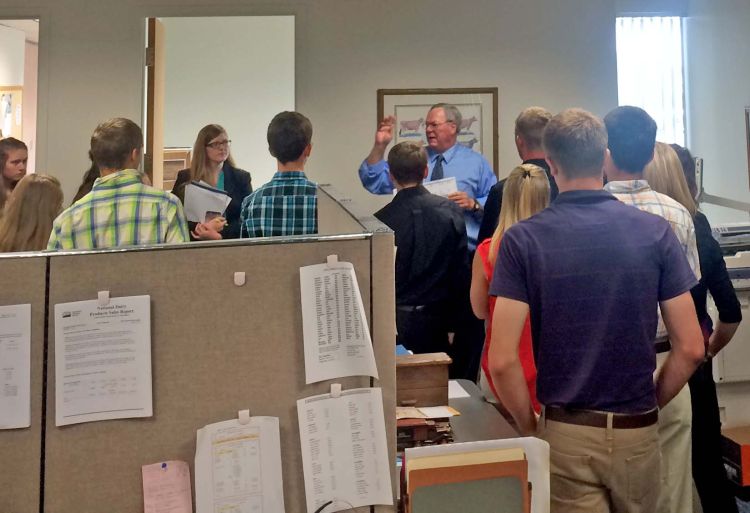 What happens to milk after it leaves the farm, but before it makes its way to the grocery store shelves? What are other careers in the dairy industry outside of the family farm? What is a co-op and what are the benefits of belonging to one? The Michigan Milk Producers Association (MMPA) answers these questions, as well as many more, during the annual 4-H/MMPA Milk Marketing Tour. Celebrating its 81st year, the MMPA tour, June 27-28, 2018, allows youth to see a different side of the dairy industry, learning about cooperatives, milk testing, milk marketing, touring a milk processing plant and networking with professionals in the dairy industry.
MMPA, in collaboration with Michigan State University Extension, hosts this event every summer in Novi, Michigan, at MMPA headquarters. Since it started in 1935, the program has introduced more than 4,000 youth to milk marketing principals. The two-day tour explains the duties and operations of a dairy cooperative, the science behind milk testing, and allows youth to see how milk is processed and then shipped to consumers.
"MMPA is proud to continue the tradition of hosting the milk marketing tour to show students the wider dairy industry. Youth development and education continues to be a key strategic priority for our cooperative to ensure a bright future for the industry," says Jessica Welch, MMPA member relations coordinator. "From seeing how a milk sample is tested for somatic cell counts to learning how MMPA staff markets member milk to watching the processing and bottling of fresh milk, participants are always learning something new on this jam-packed and fun two-day tour."
Past tour participants speak to the value and knowledge gained from this experience. Lance Frahm of Saginaw County, a 2014 participant and youth co-chair of the 2015 tour, said, "The 4-H/MMPA Milk Marketing Tour gave me the opportunity to learn about the processing, marketing and selling of products after they leave the farm, giving me a more thorough understanding of the dairy industry as a whole."
Drew Neyer, a 4-H member in Isabella County participated in the 2017 tour. Reflecting back on his experience, Neyer stated, "The 4-H/MMPA Milk Marketing Tour was a great opportunity to learn more about Michigan's great dairy industry. On the tour we learned how the MMPA co-op was started and how co-ops work to benefit their members. We also had the chance to tour a milk processing plant. This was a very interesting experience because many farmers don't consider what happens to their milk after it leaves the farm; here we were able to see the crucial step between farm and store shelf. We also were able to tour the MMPA milk quality lab and learn about the different tests that are used to make sure the milk you drink is safe. The MMPA tour was a great opportunity to meet youth from all over the state who share the same passion and interest as I have. Overall the MMPA tour was a very fun and informative experience and also can lead to future opportunities."
Miriam Cook from Clinton County also participated in the 2017 tour and said, "The 4-H/MMPA Tour was truly a memorable experience! I learned what goes into putting that gallon of milk on a store shelf and I did not realize how intense the bottling process was until this unique tour. I was able to make life-long connections and meet industry professionals that I otherwise would not have had the chance of interacting with. It is an amazing stepping stone to greater and brighter things that can benefit most anyone with an interest in the dairy industry. I would not trade this experience with anything else."
In addition to learning more about the Michigan and national dairy industries, youth may earn the opportunity to attend the National 4-H Dairy Conference in Madison, Wisconsin, Sept. 30 – Oct. 3, 2018. More than 200 delegates from across the U.S. and Canada come together for four days of learning, leadership and fellowship at this annual event held concurrently with World Dairy Expo on the University of Wisconsin – Madison campus.
The 2018 4-H/MMPA Tour will take place June 27-28, 2018. Youth ages 15-18 (as of Jan. 1, 2018) who have not previously participated in the event are invited to register. Youth do not have to be a 4-H or FFA member to participate. There is no cost to attend the tour, but participants are responsible for their own travel to and from Novi. The tour is limited to the first 30 participants and registration forms are due by May 25, 2018.
Click on the following link to download the 2018 4-H/MMPA Tour registration form.
For more information, please contact Jessica Welech, member relations at MMPA, at JWelch@mimilk.com, or Melissa Elischer, 4-H dairy youth educator, at elischer@anr.msu.edu.
Michigan State University Extension and the Michigan 4-H Youth Development program help to create a community excited about STEM (Science, Technology, Engineering, and Mathematics). 4-H STEM programming seeks to increase science literacy, introducing youth to the experiential learning process that helps them to build problem-solving, critical-thinking and decision-making skills. Youth who participate in 4-H STEM content are better equipped with critical life skills necessary for future success.