Register now for 2018 Midwest Nut Producers Council Annual Membership Meeting
The Midwest Nut Producers Council board of directors and Michigan State University Extension are pleased to announce big changes to the annual membership meeting March 9-10, 2018.
January 15, 2018 - Author: Erin Lizotte, Michigan State University Extension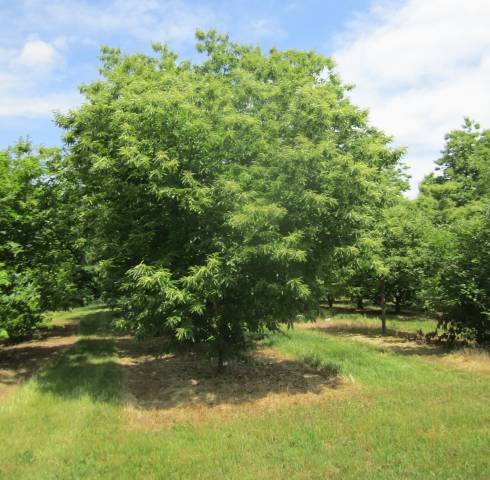 The 2018 Midwest Nut Producers Council Annual Membership Meeting will be expanded in 2018 to include two days of programming, March 9-10, and will be held at the W.K. Kellogg Biological Station, 3700 E Gull Lake Drive in Hickory Corners, MI 49060. This meeting is the premier chestnut growers meeting in the region and current and aspiring growers are encouraged to attend.
The extended program will allow for more in-depth educational and networking opportunities for chestnut producers, including a social mixer and silent auction at the historical Caretaker's Cottage on site. Topics of interest include an update on Asian chestnut gall wasp, kernel quality, pollination panel and chestnut weevil management information. For more information, download the draft agenda.
The Midwest Nut Producers Council board will use this opportunity to hold a business meeting and develop a new list of priorities based on grower needs and feedback. Additionally, the board asks all members to consider nominees for the positions of Midwest Nut Producers Council Secretary, vice president and directors as current members of the board step down.
The Midwest Nut Producers Council serves a critical role for the industry and represents a great group of professional commercial chestnut producers. The continued success of the Midwest Nut Producers Council depends on new and existing members communicating and getting involved!
Registration
The cost of the meeting is $75. Registration includes your annual Midwest Nut Producers Council membership, conference packet, snacks and meals as well the mixer featuring chestnut beverages and snacks. Register at 2018 Midwest Nut Producers Council Annual Membership Meeting.
Lodging
On-site lodging is available but must be secured separately before March 2. Single occupancy is $59 per person per night, double occupancy is $45 per person per night and triple/quad lodging is $36 per person per night. On-site lodging is adequate, but comparable to dorm-style lodging and not hotel lodging. No rooms will be available after the conference begins. Secure your room by visiting Lodging for Midwest Nut Producers Council 2018 Winter Meeting
Accommodations and contacts
For more information about the program, please contact Erin Lizotte at taylo548@msu.edu. For assistance with registration, please contact events@anr.msu.edu. Accommodations for persons with disabilities may be requested by contacting Erin Lizotte at 231-944-6504 or taylo548@msu.edu.
Affiliates
This material is based upon work supported by the National Institute of Food and Agriculture, U.S. Department of Agriculture, under Agreement No. 2015-09785. Any opinions, findings, conclusions, or recommendations expressed in this publication are those of the author(s) and do not necessarily reflect the view of the U.S. Department of Agriculture.
---