Research and demonstration projects to be highlighted at cover crops and crop innovations field day
There is still time to register for the W.K. Kellogg Biological Station field day on Sept. 27, 2019.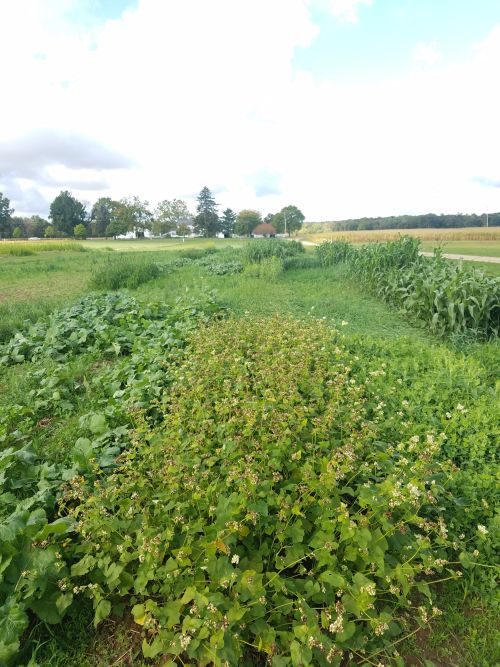 Cover crops and crop diversity are principles that can improve your soil health and profitability. The research and demonstration projects at the Michigan State University W.K. Kellogg Biological Station (KBS) offer you the opportunity to see projects in the field and learn about them from researchers and educators. Come see 39 species of cover crops, cover crops interseeded into corn, cover crops for forage, alternative crops, double cropping and improved varieties.
MSU Extension educator Dean Baas and MSU Kellogg farm manager Brook Wilke will host Extension educators, specialists and researchers for a field day of touring research sites, discussing projects and networking.
The Cover Crop and Crop Innovation Field Day will take place at the MSU W. K. Kellogg Biological Station, Farming Systems Center, 9702 North 40th Street, Hickory Corners, MI 49060 from 8 a.m. – 1 p.m. on Sept. 27, 2019, with optional discussion/tours from 1 p.m. – 2:30 p.m. Registration closes Sept. 26, so register today!
Program schedule
8 – 8:30 a.m. – Registration
8:30 a.m. – 12 p.m. – Tour of projects. Experts will be available at each stop to talk about each particular project. Topics that will be covered include:
Cover crop interseeding in corn
Strip-till and cover crops with organic winter squash
Double crop soybeans after barley
Cover crop species demonstration and research
Alfalfa/grass mixtures
30-inch versus 60-inch corn row production with cover crop interseeding
Organic transition with different cover crop mixtures
Organic soybean trials
Intermediate wheatgrass (a.k.a. Kernza)
12 – 1 p.m. – Networking lunch, sponsored by Cushman Creek Supply
1 – 2:30 p.m. – Optional discussion/tours:
Barley, cereal rye and organic oats variety trials
Soybean agronomy (planting date, seeding rate, seed treatment)
Prairie strips in row crop fields
Alfalfa/corn silage co-planting
Visit Fall Cover Crops Field Day at KBS to register and find additional details about the day.
Cover crop information and resources are available through MSU Extension's Cover Crops page and the Midwest Cover Crops Council, or contact Dean Baas at baasdean@msu.edu. Information about activities and research at Kellogg Biological Station and the farm is available at the Kellogg Biological Station website or by contacting Misty Klotz at klotzmis@msu.edu or Brook Wilke at wilkebro@msu.edu.
This work is supported by the Crop Protection and Pest Management Program 2017-70006-27175 from the USDA National Institute of Food and Agriculture. Any opinions, findings, conclusions or recommendations expressed in this publication are those of the author(s) and do not necessarily reflect the view of the U.S. Department of Agriculture.