Resources on hemlock woolly adelgid
Two videos and three bulletins provide commercial industry and homeowners with new resources on hemlock woolly adelgid.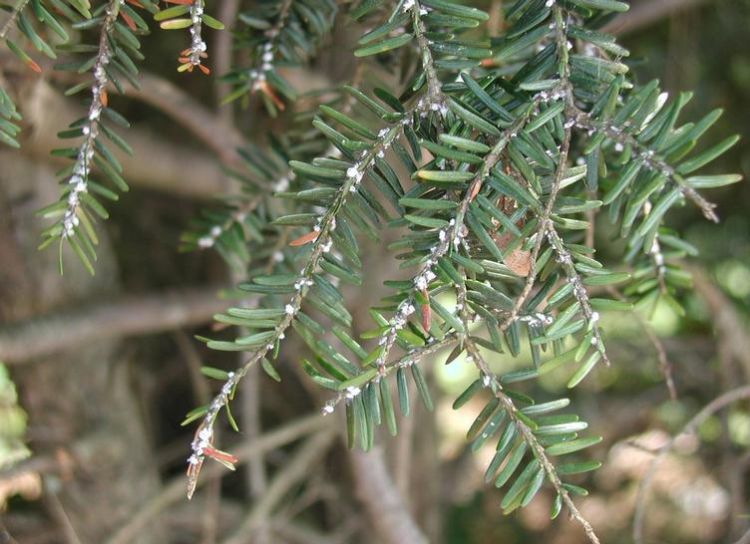 Hemlock trees are a key tree species in Michigan's forests. Hemlock woolly adelgid (Adelges tsugae Annad) is a potential major pest of eastern hemlock (Tsuja canadensis). It decimated stands of native hemlock in the eastern United States, particularly in the Smokey Mountains National Park. As of 2017, it has been found in four western lakeshore counties: Allegan, Ottawa, Muskegon and Oceana counties.
The Michigan Department of Agriculture and Rural Development (MDARD) is monitoring the active sites and as of July 5, 2017, has established an interior quarantine that regulates the movement of hemlock plants within and out of the four affected counties. The regulation applies to any hemlock with needles, which includes nursery stock, un-composted yard waste and other hemlock tree parts. As of February 2017, Michigan State University (MSU) was awarded a $1 million grant to help battle hemlock woolly adelgid and other invasive species.
MSU Extension and MDARD have collaborated to create resources for commercial growers and homeowners. Two new videos were released in 2017 on hemlock woolly adelgid.
These videos now offer optional closed captions in Spanish. If you would like a copy of the video or handouts, please contact Jill O'Donnell or Heidi Lindberg.
MSU Extension and MDARD also developed three bulletins on hemlock woolly adelgid.