Responsible social media activities
Michigan 4-H has new activities that help youth and adults think about being responsible in online environments.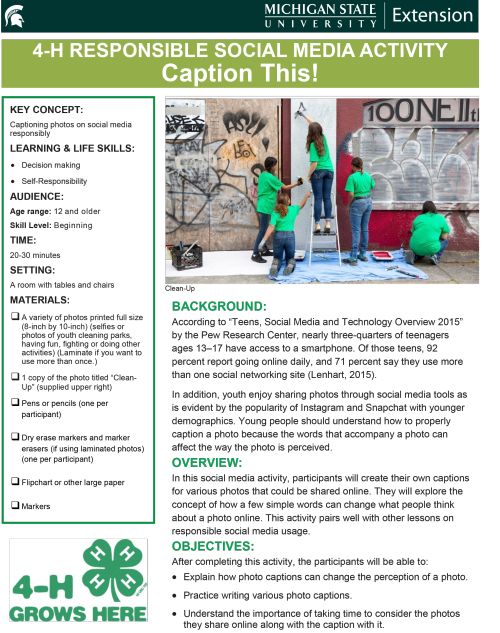 Using social media has become a huge part of the everyday lives of youth and adults. According to "Teens, Social Media and Technology Overview 2015" from the Pew Research Center, 92 percent of teens reported going online daily while 24 percent reported saying they were online almost constantly. In addition, according to Pew Research Center's "Social Media Update 2016," a majority of American adults utilize social media in some form. With so many youth and adults engaging with social media, it is important to take a few minutes to think about being responsible online. The online world is not going away and it is an important part of how people interact with one another.
Due to the importance of social media in the lives of people today, Michigan State University Extension has developed a new resource called 4-H Responsible Social Media Activities. Currently, there are two developed activities with more coming in the future. These activities are great discussion points for youth and adults to consider the role of social media in our lives.
Each activity is something a youth or an adult could teach to a group that would help participants build knowledge around being responsible when interacting on social media. The activities are short and can be combined with other activities in the series or done on their own. In addition, each activity has an experiential learning piece and is a free downloadable PDF.
In the first activity, Caption This!, participants will create their own captions for various photos that could be shared online. They will explore the concept of how a few simple words can change what people think about a photo online.
In the second activity, Online Consequences, participants will explore the various consequences people have faced because of information they shared online. They will explore the concept of how a quick "like" of something or a tweet, status update, snap or other action could have potential negative consequences.
Youth and adults enjoy engaging in activity on social media, so it is extremely important to think about how to be responsible online. Technology changes, apps come and go, and the next wave in social media platforms will come in the near future. Those changes may occur, but it does not change the fact that we need to help youth think about how to be responsible in the world of social media.
Read these additional MSU Extension articles for more information about helping youth with social media:
Michigan State University Extension and Michigan 4-H Youth Development help to prepare young people for successful futures. As a result of career exploration and workforce preparation activities, thousands of Michigan youth are better equipped to make important decisions about their professional future, ready to contribute to the workforce and able to take fiscal responsibility in their personal lives.
To learn about the positive impact of Michigan 4-H youth career preparation, money management, and entrepreneurship programs, read the 2016 Impact Report: "Preparing Michigan Youth for Future Employment."