Michigan 4-H score well at national equine contests
Michigan 4-H youth performed well at the Eastern National 4-H Horse Roundup and the All-American Quarter Horse Congress.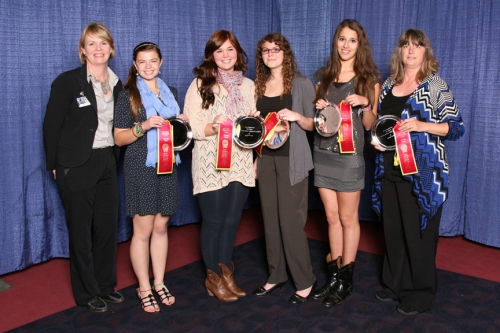 While fall weather typically reminds us that it will soon be snowy and cold, Michigan 4-H Horse and Pony Project members are heating up national Equine education contests. Any 4-H member enrolled in a Michigan 4-H Horse & Pony project has the opportunity to share their knowledge through; horse bowl, hippology, horse judging, public speaking, individual demonstration and team demonstration. By competing at the State 4-H Horse Jamboree on the campus of Michigan State University in April, Michigan 4-H youth may earn the opportunity to represent our great state at one of three national 4-H contests.
Each year in mid-October, Michigan 4-H'ers travel to the All-American Quarter Horse Congress in Columbus, Ohio. This year Michigan had some very impressive results, Samantha Ludlam from Allegan County was eighth place in Public Speaking, Alyssa Tomei from Oakland County placed ninth in Individual Presentation and Emma Johnson, also from Oakland County, finished in 14th place. Horse bowl teams from Calhoun and Genesee Counties also had strong showings. Michigan was also well represented in the Hippology division by a team from Berrien County.
Additionally, each year at the beginning of November, more than 330 of the nation's most knowledgeable 4-H Horse Program members head to the Eastern National 4-H Horse Roundup, an annual event hosted by the North American International Livestock Exposition in Louisville, Ky. Michigan 4-H was once again well-represented in several contest areas. The Hippology team from Berrien County proved to be strong competitors as did the Horse Bowl team from Leelanau County. Michigan was represented in the Public Speaking division by Shannon Ervin of Oakland County and in Individual Demonstration by Santana Mosher of Cass County. The horse judging team from Oakland County was crowned Reserve Champion team overall, they also received Reserve team in the Halter division, sixth in the Performance division, and seventh in Oral Reasons.
Lastly, although Michigan 4-H did not send a team in 2012, there is also an opportunity for 4-H horse judging teams to travel to Tulsa, Okla. to attend the U.S. National Arabian & Half-Arabian Championship Horse Show in late October.
Once again, a big congratulation goes to all of the hard-working Michigan 4-H youth that represented the Michigan 4-H Equine program at these national events. If you are interested in learning more about any of these MSU Extension sponsored events and activities visit the MSU Horse Youth Programs webpage or contact Taylor Fabus.
For a complete listing of results:
All-American Quarter Horse Congress Contests: