Risk assessment and management for child care programs
Check out these strategies designed to protect your child care home or center business from danger to children and adults, and from financial loss.
August 9, 2017 - Author: Kittie Butcher, Michigan State University Extension, and Janet Pletcher, Lansing Community College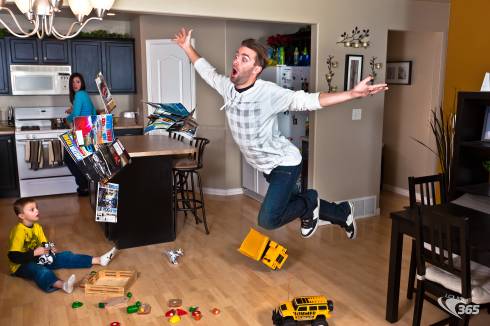 Two-year-old Jenny swallows a penny she found on the classroom floor. Jenny's parents sue your program for negligence. Graham, Ian's father, slips on the stairs leading to your basement, breaks his wrist in two places and sues you for loss of wages while he is recovering and unable to work. Not only have two people suffered painful health problems, but your program may be hit with large medical or lawyer bills. You've got trouble.
Could any of these unfortunate events been prevented if you had taken some specific actions? Yes! While all accidents and accusations cannot be eliminated entirely, child care professionals can be protected from the devastating effects of injuries to people and unexpected costs to the center or child care home which can lead to program closure.
Risk management is all about thinking ahead, anticipating situations that can lead to injury, suffering and catastrophic expense and then taking steps to reduce the chance of those situations actually occurring. Early childhood education professionals are very good at assessing classroom and outdoor environments for safety for children. Administrators and directors generally take the responsibility for assessing the entire program environment, whether in a home setting or a center setting. We can prevent many accidents, and injuries followed by law suits, by spotting "accidents waiting to happen" and addressing those problem areas.
Some of our work has already been done for us. The Michigan licensing rules for child care centers and child care homes describe the ground rules for specific health and safety guidelines. Fire safety rules, building materials and staff ratios for supervision are just a few of the areas covered in the rules that relate to the safety of children and adults in child care facilities. These rules also prohibit using some equipment such as trampolines or items from the Consumer Product Safety Recall lists.
Michigan child care licensing consultants provide the assessment and advice when they examine your home or center for licensing or registration purposes. They help you follow the licensing safety rules and can also point out areas or equipment that may cause injuries. However, they only visit centers and group homes periodically, and in the case of family child care homes, they visit only once unless there is a complaint against the home. We cannot safely rely on the help of licensing alone.
A careful risk assessment of your facility is an important strategy, and the good news is that it is free. One effective approach is to assemble a small team of classroom teachers, support staff (cook, janitor or reception staff) and parents to tour your home or center. Prepare the group by providing educational materials such as examples of areas or equipment that have proven to be hazardous in other programs. Loose electronic equipment cords, stairs without handrails and wet floors are three instances that come immediately to mind. Remind everyone to look for hazards at the child and adult level.
Another strategy is to do a survey of the Child Incident reports for the last 12 months. This will help you note any areas or pieces of equipment that show up repeatedly in the reports. Most programs do not keep a file of adult incident reports, but maybe that would be a good thing to establish. If three parents slipped on your icy sidewalk last winter, it might suggest you need a different plan to keep the sidewalks ice-free and safe.
A comprehensive insurance policy is another important strategy to use. Your insurance broker or agent can help you lessen the costs of a lawsuit by providing appropriate liability coverage. Child care centers must have a commercial liability package, and on the advice of insurance experts, it is recommended the package include child molestation/abuse coverage.
Confirm if child care home providers are covered with their home owner's policy. Some home owner's policies do not cover incidents that occurred in relation to a home business. If you are using your home as a child care business, consult your insurance provider to make sure you have coverage. Some insurance agents or brokers can do an assessment of your center or home to point out areas or equipment that have been involved in accidents in other facilities.
All of these strategies are designed to protect your child care home or child care center business from danger to children and adults and from financial loss. Every early childhood environment has areas or practices that might be hazardous and it is up to all professionals to consider the environment carefully, identify possible risks for people and then take action to reduce those risks
More information