Running in remembrance: One Firefighter's mission to honor servicemen fallen in 9/11
More than 15 years after the tragedy of Sept. 11, 2001, see how one firefighter has been inspired to honor the fallen.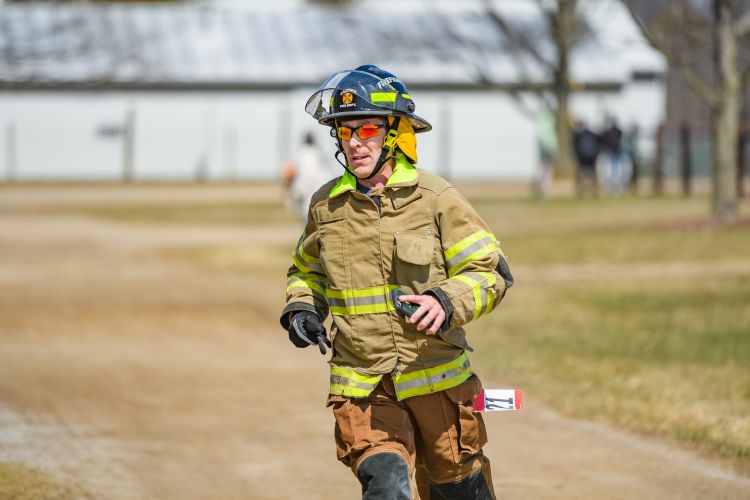 On April 8, 2018, at the annual Hoofin' it for Horses 5k for the Michigan State University Horse Judging Team, one particular runner stood out. While others ran in typical athletic apparel, firefighter Bob Bates hoofed it in full firemen's personal protective gear and placed first in his division! After the race, I spoke with Bob to inquire more about his choice of attire and was surprised to learn he was a part of a national movement to honor servicemen and women who sacrificed their lives in 9/11.
A Camden, Michigan, native, Bob has ran in several races across the state in his firemen's gear. He was inspired to do this after his fire chief told him about the Stephen Sillers Tunnel to Towers Foundation, whose mission is "to honor the sacrifice of firefighter Stephen Siller who laid down his life to save others on Sept. 11, 2001" and to all honor military and first aid responders who risk their lives for our country every day. Bob spoke passionately about the foundation's efforts to fund, design and build specialized homes for disabled veterans and emergency personnel members.
Stephen Sillers was a firefighter from Staten Island, New York, who was assigned to Brooklyn's Squad 1. On Sept. 11, 2001, Stephen arrived at the Brooklyn Battery Tunnel but was unable to get through with his vehicle due to extreme security measures. Committed to carrying out his duty, he ran through the nearly 2.8-kilometer tunnel in full personal protective gear. Once on the scene, he worked diligently and fearlessly to save others and gave up his life on that infamous day. Stephen's legacy is preserved by the foundation, who raise both funds and awareness for those servicemen effected by the 9/11 event by hosting races across the country.
While at first unsure, Bob began to practice running in full gear around his hometown but soon decided to take the leap and register for the next Tunnel to Towers race in Berkley, Michigan, on Sept. 23, 2017. Regardless of his nearly 70-pound-plus suit, Bob won the entire event by an entire seven minutes! Encouraged by his family and friends, he continued racing and placing highly around the state. Such races included the Runway 5k at the Grand Rapids Airport in October and the New Year's Resolution 5k in Ludington, Michigan, on New Year's Day even though it was, as he put, colder than the dickens.
An avid Spartan fan, Bob saw an ad for Hoofin' it for Horses and decided to bring his family. He used the race as a time trial for his next big event in May in Jackson, Michigan, and the rest is history.
Watch an interview with Bob following the Hoofin' it for Horses race!
Visit the Stephen Sillers Tunnel to Towers Foundation website for more information or if you wish to donate to the Stephen Sillers Tunnel to Towers Foundation.