SaladShip was camp success
Two MSU Extension staff members team up to provide leadership skills through nutrition.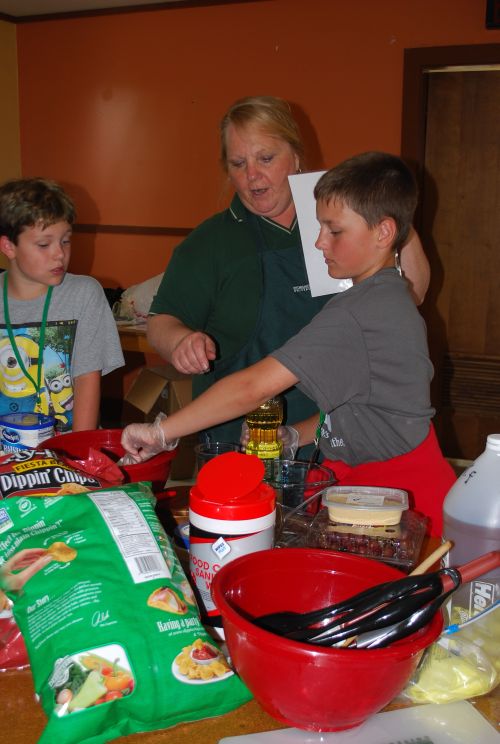 4-H Summer Camp for Alcona, Alpena, Montmorency, Otsego and Presque Isle counties was held June 29-July 1, 2015 at the Ocqueoc Outdoor Center in Presque Isle County. Sixty youth, age nine to 12, attended the camp. They enjoyed four days of a "Fun-Fins-and-Feathers" themed camp. Michigan 4-H adult volunteers, 4-H county staff and 4-H teen counselors staffed the camp. The purpose of the camp was to give students a camping experience, a chance to make new friends and to increase their appreciation of animal and nature based fields of work. Additionally, the camp provides a great leadership experience for counselors.
MSU Extension staff members Karen Fifield, and Bethany Prykucki provided a session combining each of their program areas, Food Safety and Nutrition along with Leadership and Community Engagement respectively within their Michigan State University Extension institutes to provide a session dedicated to learning about leadership and food nutrition. They called the session "Saladship." The leadership portion focused on discussing with students how leadership is like a recipe and used making a salad to highlight that idea. Students were divided into teams and asked to select a team leader and then select and create a recipe from several options. Prykucki discussed with students the qualities make someone an effective leader and highlighted that it is the same qualities that make someone a great cook. The only difference is that the ingredients we cook with tend to be easier to understand. They can see them, smell them, and touch them! Leadership can be looked at the same way. Leadership makes impacts people can see, touch, and feel!
The leadership activity was processed by asking questions such as:
What did you learn about working as a team? Did everyone contribute? What role did your leader play in making sure the work was completed?
How long did it take to make your salad?

Did other teams take longer/shorter? Why do you think that was?
What did you learn about cooperation?
How can you use these skills in different situations?
The Michigan State University Extension Leadership and Community Engagement team offers professional development training, including volunteer board development, communicating through conflict, meeting management and facilitation skills development. To contact an expert in your area, visit the website or call 888-MSUE4MI (888-678-3464).