Sanilac County Breakfast on the Farm scheduled for July 25
Visit Roto-Z dairy farm this summer for a free, family breakfast and educational farm tour.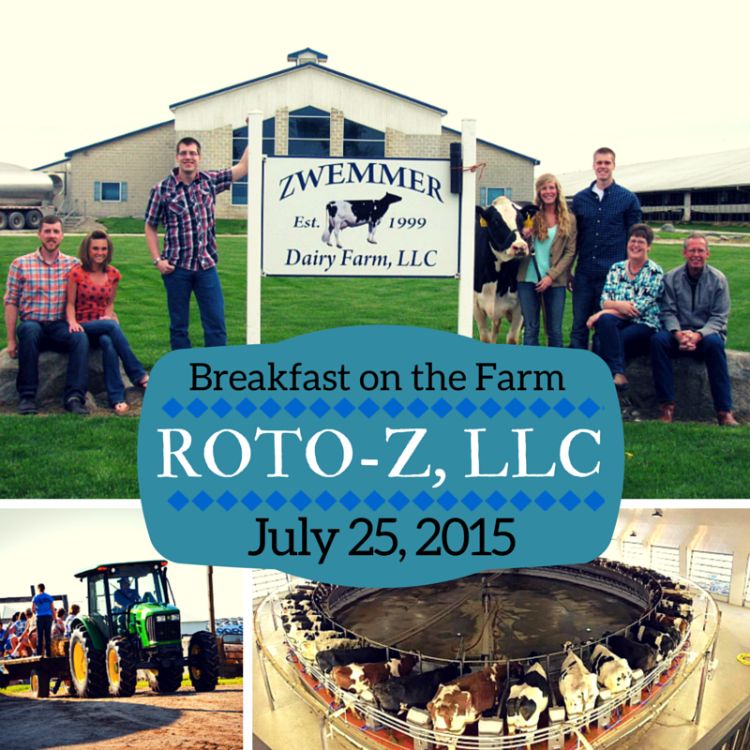 Roto-Z dairy farm in Sanilac County is hosting a Breakfast on the Farm (BOTF) event on July 25. BOTF is a unique learning experience that enables consumers of all ages to meet the producers of their food.
Roto-Z, a family-owned dairy operation, is located at 3364 Mushroom Rd. in Snover. The event will take place from 9 a.m. until 1 p.m., with breakfast being served until noon.
Roto-Z is owned and operated by Saskia and Jake Zwemmer with help from their children, Frank, Ruud, Carmen and Paul. Dairy farming has been in the family for three generations, but this is the first generation to operate in the United States -- the family previously farmed in the Netherlands. The Zwemmers own four dairy operations totaling 10,000 cows; Roto-Z Dairy houses 3,500 lactating cows. Along with their dairy cattle, the Zwemmers also run a 1,000- acre crop operation.
"We would like to open our farm to the public to provide people an opportunity to visit our farm and to share with them the latest technology and proper, careful care provided to our cows," Jake Zwemmer said.
Breakfast on the Farm is a statewide Michigan State University Extension program that is a free event open to the public. Its aim is to educate consumers on modern-day food production. Attendees at this BOTF event will be able to enjoy a breakfast featuring Michigan-grown and Michigan-produced products before they go on a self-guided walking tour of the farm. Volunteers from the community will be stationed around the farm to answer visitors' questions about modern-day farming practices.
"We strive to take the best possible care of our cows in order to produce the best quality of nutritious milk," Zwemmer said. "This is done all while taking care of the environment and working with the support of the local community."
Roto-Z has a 100-stall rotary milking parlor, which is basically like a big merry-go-round for cows on which they get milked.
"We try to provide a relaxed environment in the milking parlor for the cows to come into so they are as comfortable as possible," Zwemmer said.
The farm also has an educational center that overlooks the milking parlor. It's used to explain what goes on in producing and processing milk, and the life of a cow at Roto-Z dairy. Visitors will be able to enjoy the new state-of- the-art facility, which was designed for both cow and people comfort.
"We aim to be as cow-friendly as possible because they provide so much for us, and we are blessed for everything they do for us," Zwemmer said.
Cow comfort and care are the most important thing to the Zwemmer family -- this is something they strive for on all of their farms.
"Our farm is our livelihood and our cows are like family," Zwemmer said. "We want to make sure that consumers know how much farmers really do care. We drink the same milk that everyone else does, and to produce high quality milk, there needs to be high quality care for the cows."
The event is free, but tickets are required to eat breakfast. Tickets are available after June 25 from the following businesses:
Almont: Tri-County Bank
Bad Axe: Bay Port State Bank, Huron County MSU Extension, Northstar Bank
Bayport: Bay Port State Bank
Brown City: Tri-County Bank
Capac: Capac Library
Carsonville: Exchange State Bank
Caro: GreenStone Farm Credit Services, Tuscola County MSU Extension
Cass City: Thumb National Bank
Croswell: Eastern Michigan Bank
Deckerville: Eastern Michigan Bank
Fort Gratiot: Eastern Michigan Bank
Imlay City: Ruth Hughes Memorial District Library, Talmer Bank & Trust, Tri-County Bank
Kingston: Beagio Restaurant
Lake Port: Burtchville Township Library
Lapeer: Lapeer County MSU Extension, Marguerite De Angeli Library
Lexington: Eastern Michigan Bank
Marlette: Chase Bank, Marlette District Library
North Branch: Tri-County Bank
Pigeon: Bay Port State Bank, Northstar Bank
Port Huron: Eastern Michigan Bank, St. Clair County Library, St. Clair County MSU Extension
Sandusky: Exchange State Bank, GreenStone Farm Credit Services, Sanilac County MSU Extension, Talmer Bank & Trust, Thumb Veterinary Services
Yale: Yale Public Library
After the Sanilac County BOTF, there will be three more events this summer:
Aug. 8: Van Buren County — Hood Farms Family Dairy, Paw Paw, Michigan
Aug. 15: Gratiot County — Wheeler Dairy, Breckenridge, Michigan
Aug. 29: Hillsdale County — Pleasant View Dairy, Jonesville, Michigan
The statewide sponsors for the 2015 BOTF events are the Corn Marketing Program of Michigan, Crystal Flash, Dairy Farmers of America, Dairyland Seed, GreenStone Farm Credit Services, Kroger, McDonald's, the Michigan Ag Council, Michigan Farm Bureau, Michigan Farm Bureau Insurance, the Michigan Milk Producers Association, the Michigan Soybean Promotion Committee, the Michigan Wheat Program, Northrop Trucking and the United Dairy Industry of Michigan.
For more information about the Sanilac County Breakfast on the Farm or other BOTF events, visit www.breakfastonthefarm.com or the Zwemmer Dairy Farms facebook page, or contact Ashley Kuschel at kuschela@anr.msu.edu or Mary Dunckel at dunckelm@anr.msu.edu.