Sap to syrup: Its maple syrup time in Michigan
A visit to a sugar shack is a great way to learn how this Michigan treat is produced.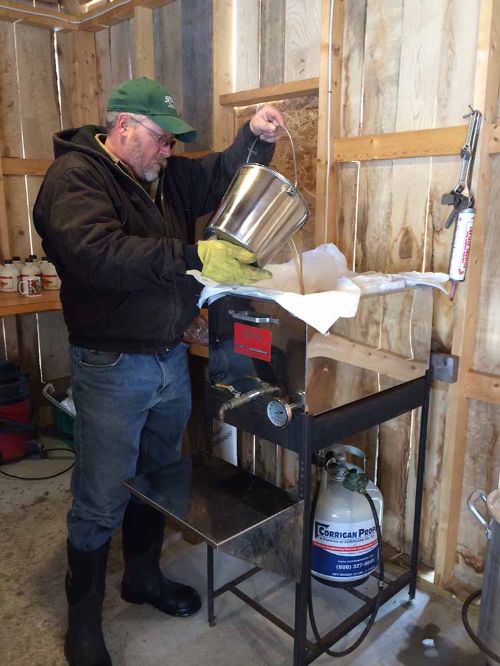 Its maple syrup time in Michigan! The sap is flowing unseasonably early this year as the crazy warm winter weather has sent sugar shacks into full production a couple of weeks earlier than normal. In Michigan, maple syrup time is when we have cold nights below freezing and warm days above freezing.
As I drive through the country, I see the steam evaporating water from the sap as it is boiled down to perfection in several near-by sugar shacks. I stopped in to visit a neighbor with a sugar shack to investigate the art of making maple syrup. As I stood in the sugar shack, the boiling sap's aroma was intoxicating. Not only is the sugar shack a place to make maple syrup, but a place to build friendships and enjoy these late days of winter.
For my neighbor, Mike Lucks, his sugar shack is a family affair as the days get warmer and the sap collecting begins. Lucks' son Levi boils with him and his wife Ellen and daughter Grace gather sap with their team of Percheron draft horses: Mike and Emily Sue. The Lucks' farm was originally owned by Ellen's grandparents before Mike and Ellen purchased the land and built a home. Soon their farm was the home of several animals, including sheep, chickens and Dexter cattle. As Grace developed a love of horses and gift for handling the gentle giants, the draft horses were soon added to the mix.
In addition to the animals, the property was also home to a wooded area with an abundance of sugar maple trees. The Lucks' like to try new things so they soon decided to try their hand at making maple syrup. Mike's passion for making syrup led him to build his new sugar shack with Levi. This is his first season in his new digs and I could tell he and his crew was having a good time (which is as important as the task at hand!).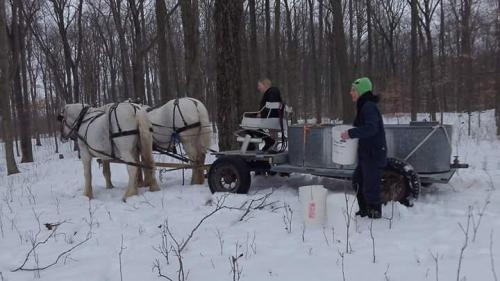 Boiling maple tree sap and honing his craft of transforming the sap into golden syrup for nine years, Lucks states that "we just do it for fun, we are crazy." His friend Brian stokes the fire and checks the temperature of the sap. The sap needs to be seven degrees over the boiling point of water. He explained to me that at this altitude, the sap needs to be 219 degrees. Scott, Lucks' cousin, is also there to help check the thermometer and hydrometer.
The Lucks' taps 90-100 trees each winter, with two taps per tree. On good days, the taps will produce about 300 gallons of sap. Lucks explained it takes approximately 40 gallons of sap to get one gallon of maple syrup. The actual number is determined by the amount of sugar in the sap and can be detected by testing it with a hydrometer. Though the sap looks like water, it actually has a sugar content of about 2.5 percent. According to Lucks, the best sap in Michigan has about 3 percent sugar.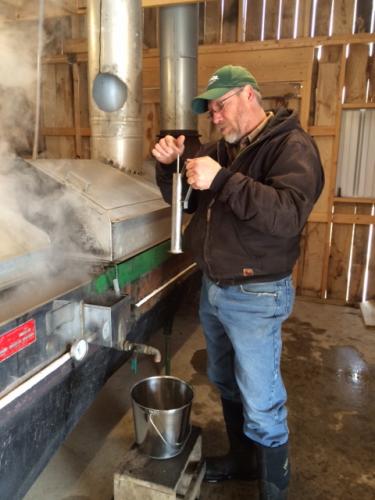 After the sap is boiled down to the desired consistency and reaches the critical temperature of 219 degrees, it is now syrup. It is put through a strainer and bottled. While Lucks and his crew told me making the syrup is just plain fun, I think the biggest bonus is the friendship built, lasting memories made and of course getting paid with quarts of syrup!
I couldn't wait to get home to try my fresh syrup on a stack of fluffy pancakes. I would highly recommend finding a sugar shack and stopping by to get an education about its production and some fresh maple syrup to go! To learn more about maple syrup, view the other information Michigan State University Extension has on the subject.