School garden for daycare program serves as Upper Peninsula Master Gardener project
Meet Elizabeth Slajus, who is bringing gardening to a summer daycare program in Kingsford, Michigan as part of her training requirements.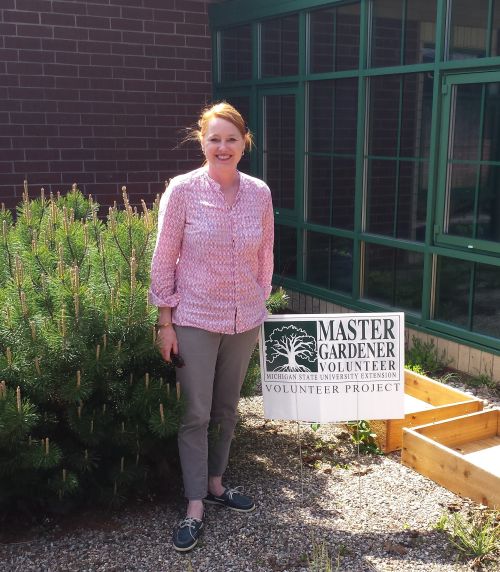 Originally from the Detroit area, Michigan State University Extension Master Gardener trainee Elizabeth Slajus has resided in the Iron Mountain, Michigan, area for the last 21 years. Wife, mother of four children, three of which are in college, and a retired elementary teacher, Slajus registered for last fall's Master Gardener class held in Marquette, Michigan. She made the 14-week commute to complete the educational component required for the program.
Slajus is currently working on the second required component to gain MSU Extension Master Gardener certification, the 40-hour volunteer project. After meeting and collaborating with school staff in the Kingsford, Michigan, schools, she determined that the summer childcare program would be the best fit for her school garden idea. She partnered with Sharon Quick-Dulan who directs the Woodland School Summer Childcare program, which serves 70 children ranging from 2.5 to 11 years old on Mondays through Fridays throughout the school year and summer. This way the children will be actively involved in the gardening process from planting seeds to harvesting to preparing and eating the fresh produce.
Slajus sought out and secured a Wal-Mart community grant that will assist in the startup and funding for this project. With this, she will purchase the necessary soil, seeds, plants and maintenance equipment for the garden. Raised bed frames constructed in the school's woodshop for the Kingsford School's food service program will be used for growing. Slajus' Master Gardener training helped determine the best location for the garden, the proper soil mixture for raised beds, plant selection and vegetable garden maintenance. She will provide the guidance and gardening expertise to the childcare program's teacher, who has already focused her summer curriculum around the garden.
Slajus has already provided face-to-face seed starting activities to 25 children. Other gardening education she will direct includes art projects centered around the garden, harvesting, safely preparing fresh produce, healthy snacking and a fall harvest with a "vegetable soup" party. The group will also beautify the entrance to the daycare with containers planted by the children.
Slajus truly is an asset to her local community and to the Master Gardener program. You can also reach her at the Iron County MSU Extension office on Wednesdays where she serves as the U.P. consumer horticulture support staff.
If you'd like to learn more about the Master Gardener program and see upcoming Master Gardener classes, please visit the Master Gardener website. Stay tuned for upcoming feature stories highlighting other Upper Peninsula Master Gardener projects.
For more information on a wide variety of smart gardening topics, visit the Gardening in Michigan website or contact MSU's toll-free garden hotline at 1-888-678-3464.
Other articles in this series