School gardens: The new "in" thing for schools
Research is proving the value of school gardens in and out of the classroom. Join us March 11-12, 2016, for a training that features a new curriculum to use in schools and other programs.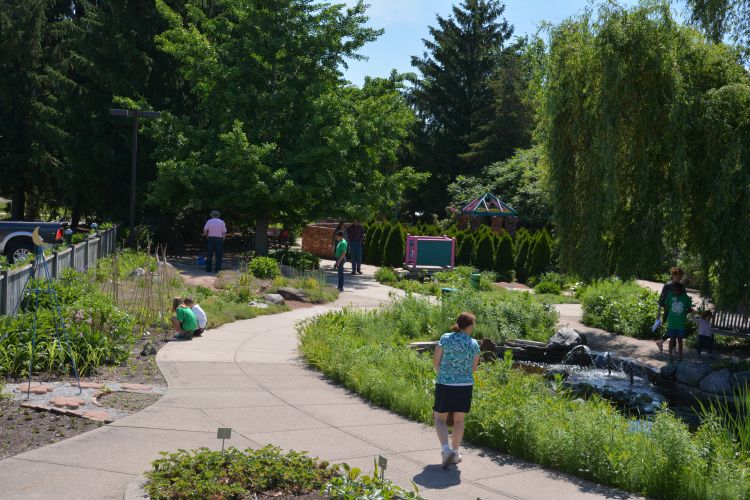 While school gardens were once thought of as an "extra" busy activity and only for schools in warm climates, today they are in the mainstream. Research is demonstrating that, among other things, schools are using gardens in creative ways to improve academic test scores in science, math, social studies and art. Other benefits school gardens provide to students include:
Improved classroom behavior.
Valuable life skills such as higher-level conflict resolution, problem solving and thinking.
According to "Benefits of School-Based Community Gardens," a resource of Denver Urban Gardens, school garden programs have a positive effect not only on students, but also on school staff, families and communities. Michigan 4-H and the Michigan 4-H Children's Garden are eager to embrace this innovative trend and work with Michigan State University Extension county staff, schools and partners to share the research behind this growing movement, inform others about tried and true best practices and introduce new, exciting programs.
One of these new programs is Texas A&M University's Learn, Grow, Eat and Go program. Learn, Grow, Eat and Go is the new research- and evidence-based curriculum project of the International Junior Master Gardener Program. It is an interdisciplinary program that combines academic achievement, gardening, nutrient-dense food experiences, physical activity and school and family engagement.
Join us March 11-12, 2016, at the Kettunen Center for a special, fun-filled, information-packed training for Extension staff, teachers and volunteers that features the Learn, Grow, Eat and Go curriculum to use in schools, afterschool programs and 4-H and partner programs. Find out more about this exciting new program and the training from your local 4-H staff, or contact me at dixie@msu.edu.
Additional information about the benefits of school gardens is available from: