Sea Grant 50th Anniversary: Celebrating the work of our Extension program
Program instructor Justin Selden believes environmental education and Great Lakes literacy are important for all students.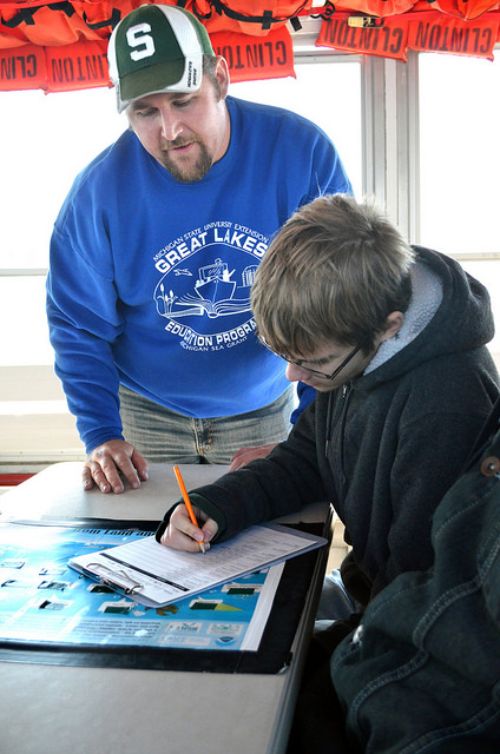 During 2016, the National Sea Grant College Program celebrates 50 years of putting science to work for America's coastal communities.
Sea Grant is a federal-state partnership that turns research into action by supporting science-based, environmentally sustainable practices that ensure coastal communities remain engines of economic growth in a rapidly changing world. There are 33 programs across the country working to help build and grow innovative businesses along America's oceans and Great Lakes, protect against environmental destruction and natural disasters, and train the next generation of leaders.
Established in 1969, Michigan Sea Grant, is a collaboration between Michigan State University and the University of Michigan. We offer research, education and community outreach on topics such as aquatic invasive species, coastal development, commercial and sport fishing, and environmental stewardship for youth.
Our MSU Extension educators live and work in coastal communities around Michigan. We celebrate their hard work and take this opportunity to introduce each of them during this anniversary year.
Justin Selden, serving Macomb County, has been a program instructor with Michigan Sea Grant for four years. He received his undergraduate degrees from Michigan State University in Fisheries and Wildlife, as well as Zoology. His masters, from the University of Toledo, focused on fish communities in agricultural streams.
Justin spent several years with the U.S. Fish and Wildlife Service working with invasive species and focusing on sea lamprey. He was also an AmeriCorps member where he oversaw seven nature preserves and was the outreach and education program coordinator. Since coming on board with Sea Grant, he has assisted Steve Stewart with the Great Lakes Education Program and in the shipboard program delivery for Summer Discovery Cruises. He also oversees the Macomb County-MSU Extension Water Conservation Program, which is delivered in approximately 100 classrooms a year to 3,000 students and teachers. He organizes and oversees an annual Lake St. Clair fisheries workshop.
Justin and his family enjoy many outdoor activities together.
What made you decide to be a program instructor with Michigan Sea Grant?
I met Brandon Schroeder when we were growing up, but it was at Michigan State University where we became great friends. He gave me the opportunity to volunteer at 4-H Great Lakes and Natural Resources Camp and I was able to see Michigan Sea Grant and MSU Extension in action. Growing up I was familiar with Extension, but like most people thought it only dealt with agriculture and 4-H. Michigan Sea Grant fills the need for honest brokers to talk to residents of the Great Lakes and give them unbiased information so they can make educated decisions on Great Lakes issues, and I thought I would be a good fit.
How has Michigan Sea Grant made a difference in environmental literacy?
The Great Lakes Education Program (GLEP) has made it possible for more than 100,000 students, teachers and adults to experience the Great Lakes by getting out on the Great Lakes watershed. In partnership with the Huron-Clinton Metroparks, GLEP students are immersed in nature and that leads to a sense of stewardship.
Also, each year between 75-100 classrooms participate in the Water Conservation Program. Michigan Sea Grant was just awarded an AmeriCorps Member to expand that program.
What challenges does your area of the state face as you look to the future?
The biggest challenge is capacity to do all the things we want to as Sea Grant agents. Time and money limit what we are able to accomplish, but it is amazing to see what Michigan Sea Grant Extension does with such a small staff.
Do you have any advice for students who might want to pursue a career with an environmental focus?
Money can't buy happiness, and at best you only get one of the two when working in the natural resource field. If you are not truly passionate about it, find where you belong.
If you could get people to follow just one piece of conservation advice what would it be?
Educate yourself! With the ease and availability of reliable information, there is no excuse to just react to an environmental issue and make up your mind without looking at both sides.
Michigan Sea Grant helps to foster economic growth and protect Michigan's coastal, Great Lakes resources through education, research and outreach. A collaborative effort of the University of Michigan and Michigan State University and its MSU Extension, Michigan Sea Grant is part of the NOAA-National Sea Grant network of 33 university-based programs.