Season of giving – Not of discarding
Americans throw away 25 percent more trash during the holidays than any other time of the year. By adopting a few new traditions, you can reduce waste, save time, money and resources and still have a bright and beautiful holiday season.
The holiday season is upon us. Christmas displays are in stores. Homeowners are putting up holiday decorations and lights. As you prepare for your holiday activities and traditions, try to think of ways to reduce the amount electricity, gas and resources used and waste accumulated this holiday season. Michigan State University Extension recommends these tips to make it a 'season of giving – not of discarding.'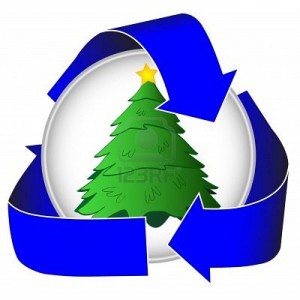 Choose LED decoration lights when shopping for new holiday lights. They are more expensive to purchase initially; however, they will last longer and use less electricity. Consumer Reports tests showed that all LED bulbs tested were still working after 4000 hours while incandescent bulbs had one or more bulbs burned out within 2000 hours. LED bulbs provide an annual savings of $1 to $11 annually over incandescent bulbs.
Use baby powder to add "snow" to the tree, wreath or garland. Baby powder is environmentally-friendly unlike the artificial spray snow. "Canned" snow may contain environmentally harmful chemicals that can prevent the greenery from being recycled when the season is over.
Think outside the gift box. Reuse gift bags or baskets or purchase them from dollar stores and/or thrift stores. These can be reused over and over. Can the present be part of the wrapping? Use towels, scarves and sheets or pillow cases to wrap the remainder of the gift and add festive ribbons and bows to make it a beautiful package without the waste.
Take your own canvas bags on shopping trips to reduce accumulating store plastic and paper bags.
Start some "green" holiday traditions. Use cloth tablecloths, placemats, napkins, plates and utensils that can be washed and reused each year as part of your holiday traditions. This will also reduce waste.
Use colorful leaves, pinecones and tree branches to create your own unique decorations as centerpieces or for mantels. Add shiny bulbs, bows or lights to complete the decoration. If using pine boughs, it will also add a fresh pine smell to the room.
Buy locally. Look for locally-grown products for your holiday parties and meals. Visit local producers and farmers markets to increase freshness and support the local growers and the economy. Try to choose foods that are in season to lower costs by reducing shipping costs. Ask guests to bring their own "take home leftovers" containers. This will reduce the amount of plastic bags being used and thrown away.
Two sites to find information on local foods are:
Michigan MarketMaker and BuyMichiganProducts.com
Travel smartly. Plan your trip. Use a map or GPS to plan the most efficient route. This will save time and gas leaving you with more of both! Check tire pressure and oil before starting your holiday shopping trips and visits to family and friends. Properly-inflated tires and a clean engine will increase fuel economy and provide safer driving. Reducing fuel consumption will save money and reduce greenhouse gas emissions.
Additional sources for holiday tips: