Second annual 4-H Animal and Veterinary Science Camp was a success
The 2015 camp expanded the horizons of 40 youth from across the country, helping them understand how many individual careers and paths there are within animal science and veterinary medicine.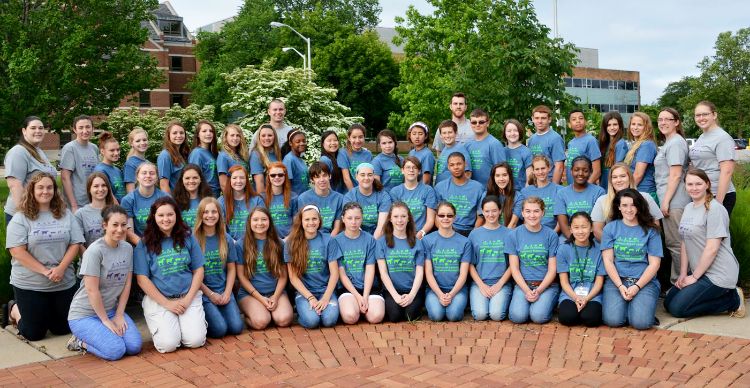 The second annual Michigan 4-H Animal and Veterinary Science Camp was held June 15-19, 2015, at Michigan State University. With 190 youth from around the country submitting applications by the April deadline, the camp grew this year to have 40 participants, age 13 to 16, in attendance. Campers experienced a glimpse of college life while having classes in different buildings and staying in campus dorms. When reflecting on her experience, Van Buren County 4-H member stated, "It has influenced me to become more active in animal-related projects now, to better prepare myself for future college classes and accomplishments."
Throughout the week, campers toured and completed hands-on activities at various MSU facilities, including the Dairy, Horse, Sheep and Swine Teaching and Research Centers, the Diagnostics Center for Population and Animal Health and the College of Veterinary Medicine Veterinary Medical Center. Michigan State University Extension staff, as well as numerous faculty, staff and students from the MSU Department of Animal Science and MSU College of Veterinary Medicine, assisted with the daily program, leading experiential sessions or interactive discussions with campers. Activities throughout campus left a strong impression with youth, as confirmed by a Delta County 4-H member, "This camp impacted me by reassuring me that working with animals is something I want to do."
The 2015 event focused on education and prevention of zoonotic diseases, as well as action steps to improve animal health through biosecurity practices, helping to reduce disease risk. A One Health approach was also presented and carried out throughout the camp. One youth from Ohio commented, "The most interesting piece of information I learned during camp was all of the diseases presented in the case studies."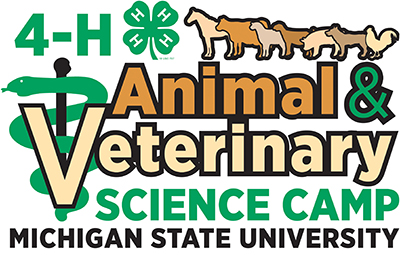 Problem solving was a key component of the camp. Youth were divided into teams and presented with an animal-related case study to research and present on at the end of the week. Youth increased their knowledge as well as gained valuable teamwork and leadership skills through the case study activity. An Oakland County youth participant acknowledged this by stating, "This program has expanded my knowledge about all of the different fields of study that goes into problem solving and the life for veterinarians."
Groups were provided with real-life scenarios in which an animal had fallen ill of a potentially zoonotic disease. Participants researched the disease and put together professional presentations about how to manage the animal and provide the necessary treatment to the animal while attempting to prevent a zoonotic disease occurrence. A Mecosta County 4-H member noted, "During 4-H Animal and Veterinary Science Camp, I learned time management skills [and] communicating with others, whether it be friends or the public. I have developed problem solving and critical thinking skills."
Overall, participants learned about animal and veterinary science careers, gained practical knowledge in the field of animal management and had a "Spartans Will" experience. Career exploration and understanding was also imbedded throughout the camp. A Kent County youth stated, "This pre-college program has broadened my view of veterinary science – how it affects and is connected to so many other fields of science (for example agricultural production, ethics/law, environmental conservation, etc.). I also feel like I know more about how vets work and what is expected for me to get into veterinary medicine/college."
A Washtenaw County participant echoed this by stating, "This camp taught me that a veterinarian isn't the only career option that involves animals."
The five-day Spartan pre-college program is sponsored by MSU Extension, Michigan 4-H Youth Development, MSU Department of Animal Science, MSU College of Veterinary Medicine and Michigan Milk Producers Association.
For more information about the camp, visit the 4-H Animal and Veterinary Science Camp website or contact me, MSU Extension educator in livestock and veterinary science, at thelenju@anr.msu.edu. Applications for the 2016 camp will be available this fall with an application deadline of April 1, 2016.