Service and strength: An interview with MSU Extension tribal educator Charlee Brissette
At the heart of MSU Extension educator Charlee Brissette's work is an unyielding dedication to the communities whose cultures, languages, customs and beliefs are just as integral to Michigan's identity as our vast natural resources.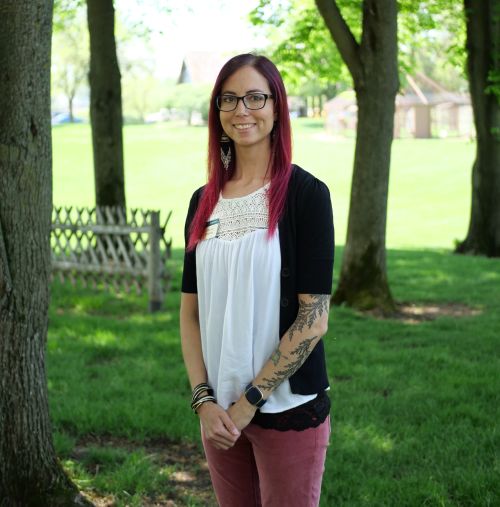 "Every day, I ask myself if I'm doing enough on behalf of our communities."

That philosophy of authentic service is exactly what Charlee Brissette, Michigan State University Tribal Extension educator, keeps at the forefront of her mind in her daily work.
As an educator for MSU Extension, Brissette — who is based out of Chippewa County — delivers health programming to the state's tribal communities in a variety of topics, from food safety to chronic disease management. Drawn to public health at an early age, she earned a Master's in Science from the University of Texas at Austin in Health Behavior and Health Education, with a portfolio in Native American and Indigenous Studies.
As an enrolled member of the Sault Ste. Marie Tribe of Chippewa Indians, Brissette's work transcends educational outreach. At the heart of her work is an unyielding dedication to the communities whose cultures, languages, customs and beliefs are just as integral to Michigan's identity as our vast natural resources.
"There is an abundance within our tribal communities that people are not very aware of," Brissette said. "Our communities, our tribes and our people — we have the ability to heal. We have the capacity to empower our people and nations to grow their health and well-being. So in my work, I ask myself: How can I best support Indigenous communities? But I also ask myself: What can I do to show everyone how strong our tribal communities are?"
---
What first interested you in a career in public health?
It started in high school for me, personally. I was sick in high school, and that experience taught me that our bodies will do the best they can to try to heal themselves and maintain balance. We have the tools, the capacity and the knowledge to do what we can to take care of ourselves and our bodies.
My career is really about merging public health with my work within Indigenous and tribal communities. Fortunately, I grew up with my culture, living on the res[ervation]. So I kind of always knew that these two things would be central to my career. Both have always been of importance to me, trying to empower our people to maintain their health and well-being on an individual basis and on a community basis.
Can you talk about the concepts and teachings of the Four Directions, and how that intersects with and informs your public health work?
Absolutely — this could be a whole day or more worth of teachings!
We have the four directions in our medicine wheel, and you'll find medicine wheels in many communities. They are not all the same; the colors and the teachings from my community may be slightly different from others even just down the road from me.
I identify as Anishinaabe, Ojibwa and Odawa. The teachings that I grew up with start in the eastern direction with the color yellow. That's where our young babies sit. New life begins in the eastern direction where the sun rises, what's known as waabanong. From there, we move on to the next stage of our life, in the southern direction, which is youth and young adults. That's represented by the color red, and that's known as zhaawanong. Then in the western direction, epingishmook, represented by the color black, is where the sun sets. That's where adulthood is. Lastly, in the north is giiwedinong, where our elders sit. This is where our wisdom sits, and it's represented by the color white.

Each of these four directions represent our mental, physical, spiritual and emotional health. As I work with individuals and communities, I incorporate this idea of maintaining a balance of health and well-being.
Sometimes I'll have people draw a medicine wheel and mark on a scale of one to five where they feel their health is in that particular direction. People can compare those numbers, see how imbalanced they might feel, and know where to put their attention to because of it. There are so many more teachings with those directions, but broadly, it's a very useful way to visualize different aspects of our health in a holistic view.
On that note of balance, how do you balance evidence-based programming with the teachings of tribal communities? It seems like historically, a lot of marginalized communities have been excluded from academic research and at worst they've been actively harmed by it. Merging traditional, culturally relevant tribal teachings with academic research seems like it could sometimes be a challenging space to work in.
Oh my gosh, yes. I am very thankful in that I've been encouraged by MSU Extension leadership to bring in culture and some of my own teachings to make it relevant to our tribal communities. That support is critical. That said, it can still be challenging to deliver programming relevant to tribal communities while ensuring everything is evidence-based.
Indigenous voices are not usually at the center of public health research, guiding it. On the flip side, I recall learning in graduate school that Indigenous communities are some of the most, if not the most, researched communities. So it's a very delicate balance to work in academia and tribal community outreach, because you do not want to perpetuate anything harmful. I can offer evidence-based programming according to organizational standards, but who's to say that our traditional ecological knowledge held by our story keepers for generations isn't just as valid?
There are thousands of years of history as to why tribal and Indigenous communities are marginalized. So there are obviously desires and needs for resources within tribal communities, because there has been a lot taken from us. However, your goal is not to come into a community and tell them what they need and how they need to get it. Your goal is to serve your communities.
That means you find out what their needs are, rather than coming in and saying, "I have this great program, and I think that's what your community needs." Flip that around. Ask the community what they need, listen and find out how you can help support them. It's a challenge, but I believe the first step is to build authentic relationships with tribal communities, where they can trust that you are there to support and listen.
I think this also speaks to the importance of representation. Within MSU Extension, we have Tribal Extension, and we have three Indigenous employees now. That's huge — it's not enough, but it's a good step in the right direction. We're growing, and I'm excited to see what we can do in the future.
How would you like to see Michigan State University Extension better engage with the state's tribal communities in the coming years?

A couple things that come to mind are expanding MILES [the Michigan Inter-tribal Land Grant Extension System] and continuing to highlight the different programs that are being offered by Tribal Extension. Supporting those programs is crucial, and so is increasing the awareness and visibility of Tribal Extension in the state of Michigan. We have so many irons in the fire coming up for things we'd love to do. I can't wait to share with the populations we serve.
How can people who want to learn more about Tribal Extension connect with you?

The first step is to check out MSU Extension's Tribal Education website. We're looking to expand our website and other offerings soon. You can also reach out to a member of our Tribal Extension team through email or phone. We are always open to conversations!