Serving up slugs for April 29 Field Crops Virtual Breakfast
The Field Crops Virtual Breakfast on April 29, 2021, will feature Ohio State University entomologist Kelley Tilmon discussing slug life cycle, early season impacts on crops, scouting and management strategies.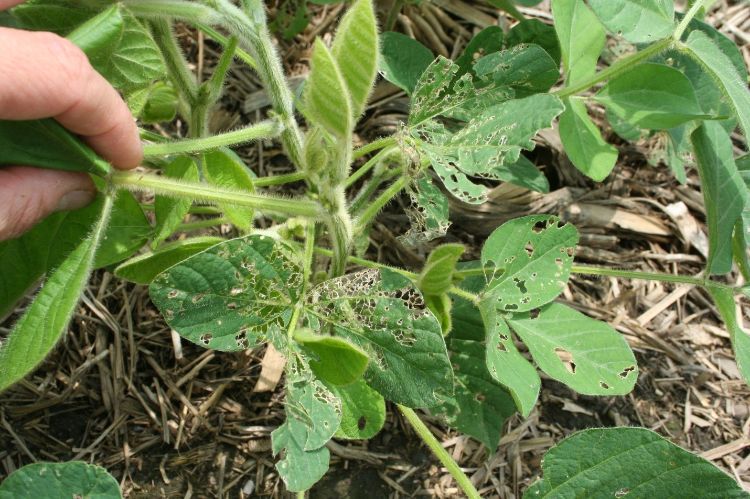 Slugs can cause significant early season damage in corn and soybean, especially in no-till fields, which provide higher moisture, more moderate soil temperatures and shelter in the residue—all of which favor slugs. Slugs are present in fields all season long, but they cause more impactful damage when plants are small. Insecticides don't work on slugs because they are molluscs. Baited pellets are the best products, but they aren't a silver bullet, and they are expensive. One surprising fact is that insecticidal seed treatments such as Cruiser can actually make slug problems worse!
Want to learn more? The free Field Crops Virtual Breakfast on April 29, 2021, will feature Ohio State University entomology specialist Kelley Tilmon discussing slugs, how they can impact our main field crops this spring, and some effective management strategies.
Sign up for the free Field Crops Virtual Breakfast
The Michigan State University Extension Field Crops Virtual Breakfast Series are held every week during the growing season via Zoom video or phone conference. These virtual meetings will take place every Thursday morning from 7-8 a.m. April 1 through Sept. 23, 2021. Restricted use pesticide (RUP) credits and Certified Crop Advisor (CCA) CEUs are available for attendees who attend the live meeting.
Participating is easy and free! You can join the live meeting via Zoom using a computer, tablet, mobile device or regular phone line. If you are new to Zoom, simply download the Zoom app and you will be ready to join online every week to see visuals shared by presenters. A call-in by phone option is also available but note that you will only hear the audio portion.
Participants must sign up to receive an email notification with instructions for joining the Virtual Breakfast. You only need to do this once and you will receive the Zoom link and call-in phone number, as well as weekly reminders every Wednesday. Participants receiving emails can opt in or out at any time.
Sign up for the free Field Crops Virtual Breakfast
If you cannot participate in the live session at 7 a.m., you can view the recorded version at any time. However, only the live session will be eligible for RUP and CCA credits. Recordings will be closed-captioned and available at the Field Crops Virtual Breakfast webpage and the MSU Extension Field Crops Team social media platforms: Facebook, Spotify, YouTube, Apple Podcasts and Twitter.
If you are unable to sign up online, call the Lapeer County MSU Extension office at 810-667-0341.