Seven MSU MANRRS students brought home awards from annual conference in Kansas
The MSU Chapter of Minorities in Agriculture, Natural Resources and Related Sciences brought home several awards and accolades at the 34th MANRRS Conference in April 2019.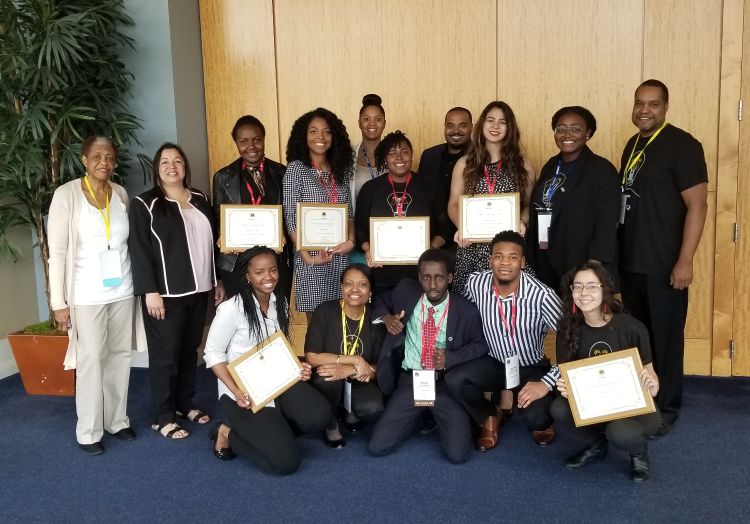 Fifteen students and 15 faculty and staff members represented the MSU College of Agriculture and Natural Resources (CANR) and the MSU Chapter of Minorities in Agriculture, Natural Resources and Related Sciences (MANRRS) at the 34th MANRRS National Conference running from April 3-6, 2019.
Of those MSU MANRRS students, seven received awards in indivdual competitions for writing, research and public speaking.
A total of 1,200 participants and more than 85 companies participated in the national MANRRS Conference held in Overland Park, Kansas. The conference includes competitions, workshops and a career fair.
"The students work hard all year to get to the MANRRS Conference, and it is great for them to know that CANR faculty and staff notice and support their work," said MANRRS co-advisor Phillip Seaborn. "The faculty and staff presence at the conference provides a great opportunity for the students to network and build long lasting relationships in our college and at MSU."
CANR Senior Associate Dean Kelly Millenbah represented the college at the MANRRS Diversity Summit during a panel discussion with leaders from agricultural universities across the country. Additionally, CANR staff members Dionardo Pizaña, Quentin Tyler and Katusha Galitzine facilitated sessions on diversity, equity and inclusion during the summit, and forestry faculty member, Asia Dowtin, led a general session during the conference.
Tyler also entered his third year as chair of the MANRRS Advisory Board.
MSU Chapter and regional officers
The MANRRS organization overall represents six U.S. regions comprised of various state and schools in close proximity to each other.
The MSU MANRRS Chapter is part of Region 5 representing schools in the Midwest and including Central State University, Michigan State University, Illinois State University, Virginia Polytechnic Institute and State University, University of Minnesota, Iowa State University, The Ohio State University, Purdue University, University of Illinois at Urbana-Champaign and University of Wisconsin-Madison.
MSU undergraduate student Micah Cuevas was elected to serve as the Region 5 undergraduate vice president at the conference and will represent MSU as a national officer during the 2019-2020 academic year.
This year, recent MSU Ph.D. graduate, Obafemi Elegbede, completed his term as the Region 5 graduate vice president.
Additionally, MSU students Najma Muhammad and Vanessa Garcia Polanco received the Cynthia Hayes Memorial Scholarship. This scholarship in memory of Cynthia Hayes, former director of Southeastern African American Farmers' Organic Network, awards $1,000 at the MANRRS Conference to students committed to working on issues and needs affecting black farmers.
Talesha Dokes and Christián Henry from the MSU Chapter represented the chapter at the Bayer Scholar reception for academic achievement.
MSU student contest winners
MANRRS chapters compete against each other nationally for different awards. Some are competitions by chapter and some are individual student competitions that are used to develop writing, research and public speaking skills.
MSU students were successful with nearly all placing in the top three for their respective contests.
Micah Cuevas: Third in the impromptu speaking competition
Tessie Golden: Third in the national essay competition
Andrea Sosa Moreno: Second in the graduate research poster competition
Fleur Mushumba: First in the undergraduate research discussion competition
Louanges Ndayishimiye: First in the national essay competition
Dolores Perales: Third in the business pitch competition
Labrawn Wade: First in the inaugural Lincoln Douglas debate competition
Students or faculty interested in learning more about the MSU Chapter of MANRRS should contact co-advisors, Stephanie Chau, chaus@msu.edu, Eunice Foster, fosteref@msu.edu, or Phillip Seaborn, seaborn@msu.edu.
Faculty and staff interested in attending future MANRRS national conferences should contact the CANR Office of Diversity, Equity and Inclusion at ANR.DEI@msu.edu.