Seven tips to keep your check-writing in check
Whether writing out checks personally or as part of your role as treasurer, these few tips will keep you successfully utilizing checks.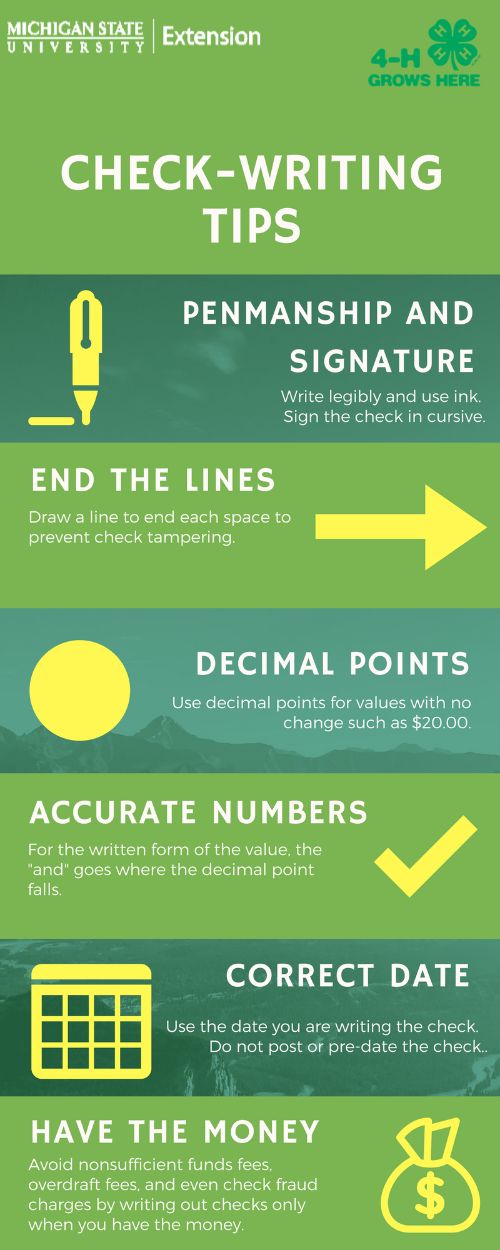 Do you have a checking account? Are you in charge of your group's treasury and write out checks for that group? Michigan State University Extension has a few tips for writing out a good check:
Penmanship matters. The check should be legible and written in pen. Take your time to write clearly and accurately. Printing is the best choice.
End the lines. When completing the "Pay to the order of" line and the "dollars" line, draw a line to the end of the space after you complete the information you have written there. This prevents someone from tampering with the information by adding their name or numbers to the written out statement.
Use decimal points. If the value of the check is $20, make sure you note as $20.00 in the box, again, to prevent someone from adding zeros to the number.
Write out numbers correctly. When writing out the value of the check in written form, the "and" goes where the decimal point falls. For example, if the check is valued at $23.45, the line would read: twenty-three and 45/100---------------
Accurate date. Put the actual date you are writing the check on the date line. Do not post or pre-date the check.
Sign. Don't forget to sign the check and use your cursive signature.
Have the money. Don't write out a check when there is no money in your account to cover that check. This can lead to nonsufficient funds fees, overdraft fees and even a check fraud charge.
Michigan State University Extension 4-H Youth Development provides tools in the "Financial Manual for 4-H Volunteers: Leading the Way to Financial Accountability" and the "Financial Manual for 4-H Treasurer: A Guide to Managing Money Wisely" to support 4-H groups in their work as treasurers.
Michigan State University Extension and Michigan 4-H Youth Development help to prepare young people for successful futures. As a result of career exploration and workforce preparation activities, including serving in the role of 4-H treasurer alongside an adult leader, thousands of Michigan youth are better equipped to make important decisions about their professional future, ready to contribute to the workforce and able to take fiscal responsibility in their personal lives.
To learn about the positive impact of Michigan 4-H youth career preparation, money management and entrepreneurship programs, read the 2015 Impact Report: "Preparing Michigan Youth for Future Careers and Employment."