Sign regulation guidebook helps communities find their way: Part 1
Signage is a defining characteristic of a community and a regulatory aspect of local government that must simultaneously protect free speech and community aesthetics.
The practical challenge for communities developing sign regulations is to craft a set of standards that allow for signs to meet basic needs for wayfinding, instruction and identification while protecting community aesthetics and preventing traffic-safety problems. The appropriate balance between these three goals is up to each community to determine through a planning strategy that accounts for the views of all community interests and produces regulations that are palatable to the entire community.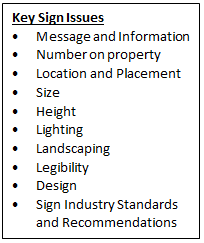 In Michigan, communities have a tremendous resource when it comes to making decisions about regulating signs. The Michigan Sign Guidebook: The Local Planning & Regulation of Signs, prepared by the Planning & Zoning Center at Michigan State University and released by Scenic Michigan in December 2011, provides a thorough discussion of many legal and planning matters related to sign regulation and gives municipalities a framework for developing successful and defensible regulations.
Perhaps the most important element in a sign ordinance is the definition of what constitutes a sign. If the type of sign is not included in the definition, then the ordinance will not apply and it cannot be regulated. The Sign Guidebook provides several example definitions, one of which is a model definition of a 'street graphic' from the American Planning Association's Street Graphics and the Law report: "A lettered, numbered, symbolic, pictorial, or illuminated visual display designed to identify, announce, direct, or inform that is visible from a public right-of-way." Clearly, the broad definition is intended to include just about every type of sign in a community, but that may not be the best approach for all communities.
Equally important for any sign regulations is the inclusion of a clear statement of the purpose of the regulations. Sign regulation purposes endorsed by the US Supreme Court to date include traffic safety and aesthetics, but other legitimate governmental interests might include the protection of scenic views, prevention of blight and economic development by minimizing clutter and reinforcing place.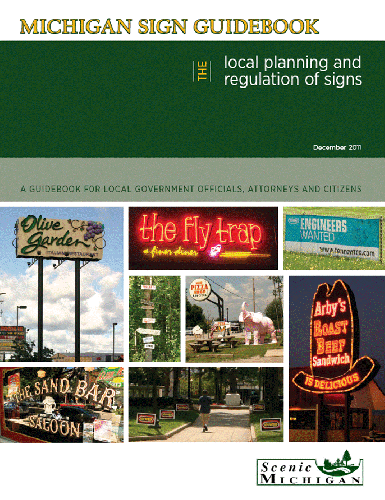 Another absolute must for a set of sign regulations is to include a substitution clause permitting any commercial sign to be covered or replaced with a noncommercial message in order to ensure that the community does not favor commercial speech over non-commercial speech. This is rare among Michigan local government sign regulations and hints at the legal labyrinth that communities must navigate to avoid violating constitutionally protected rights.
For a brief review of the legal issues associated with sign regulation and a summary of the remainder of the Michigan Sign Guidebook, read Sign regulation guidebook helps communities find their way: Part 2, published by Michigan State University Extension.