Silver cleaning secrets
Check out these tips to easily clean silver on your horse show tack using some household products you might not expect.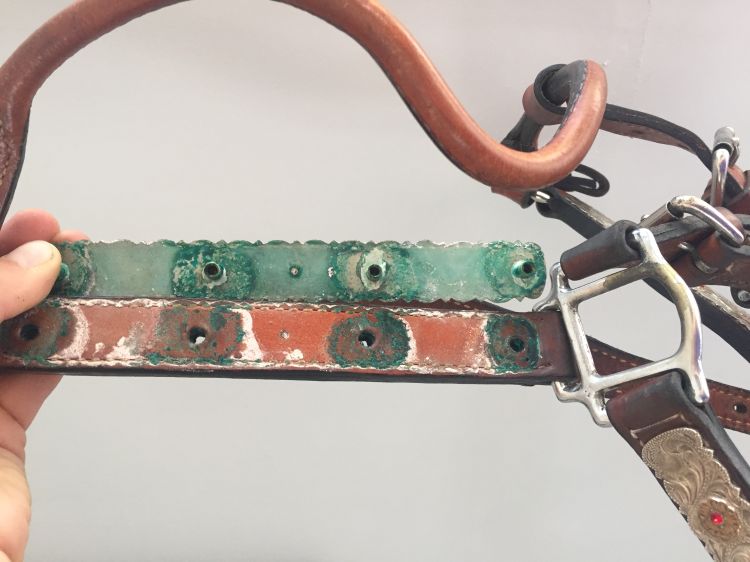 It's no secret that high quality horse show tack is often a large investment for buyers, and these investments need to be handled with great care. What you may not have realized is just how easy it can be to do. With a bit of time, elbow grease and useful products, you can take your horse show tack from dull and tarnished to polished and gleaming.
The step that is most often overlooked, but will pay dividends in the end, is removing the actual pieces of silver from the tack. Most silver is fastened onto equipment using Chicago screws, which can easily be removed using an ordinary screwdriver. Often times a flathead screw driver is needed, but evaluate your piece of tack to find the appropriate tool. Removing the silver will allow you to more effectively clean all parts of the piece of silver without concern about affecting the leather.
As you can see in Photo 1, when removing silver you may find a great deal more tarnish than you realized was initially there. This is especially true on tack like a show halter. The halter is directly on the horse's hide, which allows for more dirt, sweat, hair, grooming products and other irritants that can lead to your silver tarnishing and leather wearing. Removing the silver from time to time is a good habit to get into in order to properly clean the silver and leather. I recommend placing the silver and coordinating Chicago screws into a small, plastic storage container or plastic storage bag to prevent losing any important pieces.
Now that the silver is removed, it is time to get cleaning. An industry-favorite silver polish is Haggerty Silver Polish (found in a blue aerosol can). Other great silver cleaning products are Weiman Silver Polish or Simichrome Polish. You'll spray the product onto a terry cloth towel and rub the product onto the silver, which will leave a light film. Using a clean, dry towel, polish the silver until no more tarnish is seen on the rag. The tarnish will appear as a black or gray soiling on the rag. Keep rotating the rag as you use it to prevent rubbing tarnish back onto the silver.
If you're cleaning silver that is still attached to the leather tack, don't worry if you get a bit of the black tarnish on the leather. A great tip from Blue Ribbon Custom Tack is that "you can usually remove it if you wipe the area with a clean terry cloth towel sprayed with Glass Plus or Windex." You can see the results in Photo 2 of before and after the Haggerty Silver Polish was used.
Don't have access to silver cleaning products? Don't worry, we have other suggestions that are likely right in your kitchen! Take a look in your fridge or pantry and grab ketchup. You read this correctly—that ketchup is a very effective silver cleaner. Why does it work? Silver tarnishes when the sulfur compounds in the air react with it and form silver sulfide. The most likely reason some people swear by ketchup is because it contains acetic acid, better known as vinegar.
It's very simple to use this household item to clean your silver. First, pour ketchup into a dish. Place the silver piece into the ketchup, making sure it is totally submerged. Let the silver sit in the ketchup for 5-10 minutes. Remove silver piece from the bowl, rinse with warm water and buff dry with a rag. See Photo 3 for the results on this silver belt buckle.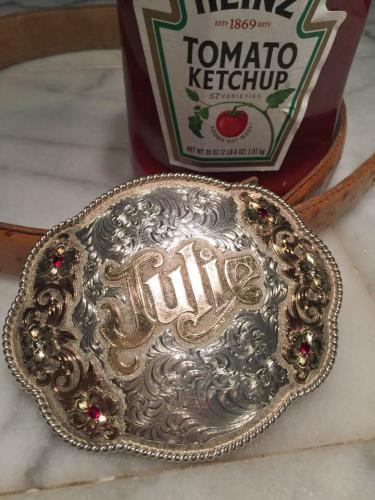 You may have been advised to use toothpaste as a silver cleaner in the past, but some experts advise against it. While toothpaste as a cleaning product is easy to come by, it often contains ingredients that are abrasive. This is especially true of plated items because the toothpaste can damage the silver plating and expose the other metal underneath to corrosion.
Before you return the now clean silver back onto a dirty piece of tack, be sure you allot extra time to clean the leather portion of your tack as well. Not only will this improve the overall longevity, usefulness and appearance of your equipment, it will also prevent tarnish building up more quickly onto the silver.
Blue Ribbon Custom Tack suggests cleaning the leather with Farnum's Leather New or Fiebings Liquid Glycerine Saddle Soap. The liquid glycerine soap should be sprayed onto a sheep's wool pad, never directly onto the leather, and then rubbed evenly onto the leather and into any tooling. Using a second piece of dry sheep's wool, buff the leather well. When finished, put the sheep's wool pad you used into a plastic storage bag where it can be used again for any quick cleaning needs.
With winter approaching, many exhibitors will be taking a break from the horse show season and now would be the perfect time to clean and refurbish your show tack and equipment.