Sixth annual local food conference hosted in Macomb County
Join local food supporters on June 6 to learn, connect and eat at the All About Food Conference.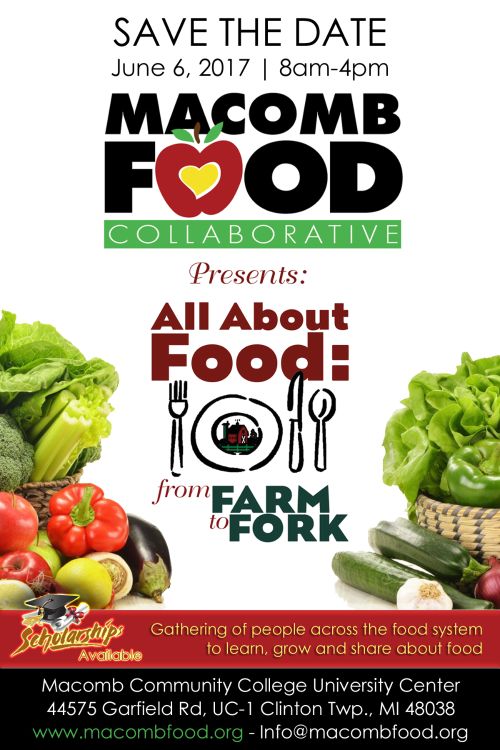 Calling all food enthusiasts - from grower to eaters! Registration is open for the All About Food: From Farm to Fork Conference on June 6, 2017. The Macomb Food Collaborative, a non-profit organization focusing on food business development, food access and promotion of local food, is the host of this annual event. In years past, the conference has attracted between 150 – 200 participants.
The keynote talk will focus on the topic of The Future of Farming, featuring a panel of talented speakers from various sectors of the food system. The panel includes:
Each speaker will provide information about their experience in the food system and discuss their view on what the future of farming and local food system development holds, setting the tone for the day.
This year the conference offers a diverse lineup of presentations and hands-on sessions. Ranging in topics certain to pique the interest of DIY-ers to producers to health professionals, the session selections cover the entire food system.
School food professionals and parents will have a wide selection of sessions focused on farm-to-school, child nutrition, including a session on the Flint Water Crisis and measures taken to combat lead poisoning through nutrition. School garden supporters will also have the choice to attend a handful of sessions about local garden programs.
At-home food enthusiasts will take interest in backyard gardening, home food fermentation, and the importance of pollinators.
Food entrepreneurs can attend sessions on local food marketing, access to financial resources, building partnerships through farmers markets and a session focused on meat processing in the region.
Those interested in food and food systems education will be able to attend an in depth session with Jim Reid about dairy farming and a session about eating consciously.
As any local food conference attendee would hope, a locally sourced and prepared lunch will be provided as part of the cost of attendance. A number of local food businesses will contribute their goods to support what is anticipated to be a delicious spread. A selection of those contributors include: Henry Ford Health Systems, Ethel's Edibles, Westview Orchards and the Clean Plate.
Early bird registration is open through April 30, with a $25 fee. Regular registration runs from May 1 – 30, with a $30 fee. Online registrations can be completed here. A limited number of walk-ins will be accepted on the day of the conference, with a $35 fee.
In an effort to build community connection and support around food related topics, Michigan State University Extension supports local food systems conferences throughout the state. For more information on conferences and other local food events, consider subscribing for news on community food systems.