Slow Moving Vehicle triangles - be on the lookout!
Ensuring your Slow Moving Vehicle signs are in good shape will make traveling the roads safer for farmers and other road drivers.
SMV … it's not the latest texting acronym, but something that can help save the life of a farmer or farm worker who is out doing their job. The bright, reflective orange triangle with red border is a warning that a Slow Moving Vehicle (SMV) is in front of you. As a motorist, it means slow down, as a farmer; it's a warning to other people on the road that the vehicle or piece of equipment in front of you is moving at a much slower rate than the speed limit in most cases. Most farmers who drive tractors on the roads have experienced people rapidly approaching them. These simple triangles alert drivers that they need to slow down and keep a safe distance behind the farmer until it is safe to pass.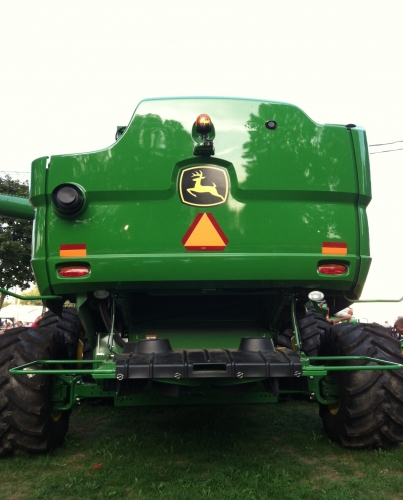 According to the Michigan Secretary of State website, in the five years from 2004-2009, farm equipment was involved in over 1,000 crashes in the state, and 22 of these resulted in fatalities. It is very important to have bright SMV signs on all your tractors and implements that run less than 25 miles per hour. If signs are worn or faded, they need to be replaced to ensure visibility to everyone on the road. SMV signs are available at most farm and home retail stores.
While fashionable in some circles, it is improper to use the SMV sign as a decoration or as a reflector on driveways or mailboxes. These should be removed and replaced with reflective lane markers if having a reflective marker is necessary.