Visit the Smart Gardening booth at the 2017 Lansing Home and Garden Show
Welcome spring and receive great Smart Gardening tips to save you time and money at the Lansing Home and Garden Show, March 16-19, 2017.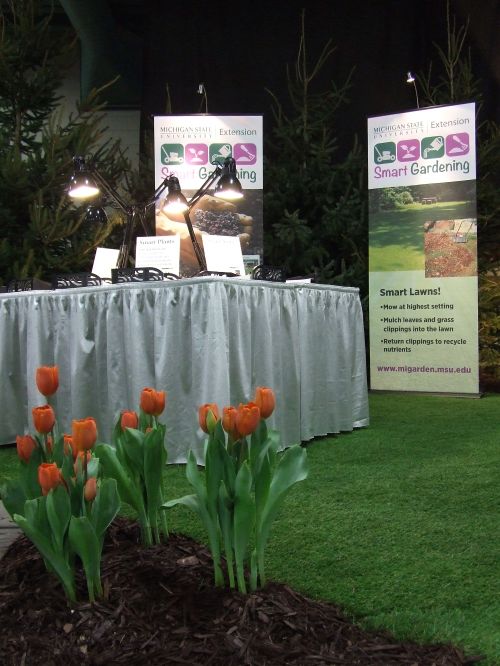 Last week, it looked like we might have an early spring, but now we have snow on the ground. The days are getting longer though, and it won't be long before the bulbs are blooming and it is spring for real. Visit the Lansing Home and Garden Show during March 16-19, 2017, at the Michigan State University Pavilion, for a chance to leave winter behind and step into spring now. At the show, you can walk through beautiful gardens, see new products and come home with ideas to make your gardening and home care easier and more rewarding.
When you arrive at the show, be sure to visit the MSU Extension "Smart Gardening" booth (#1770). Get free tip sheets on topics from lawn care, soil and soil testing to landscaping with native plants, watering, protecting pollinators and other environmentally-friendly practices to make gardening easier. There are three new tip sheets this year: "Smart Lawn Care to Protect Pollinators," "Smart Gardening to Protect Monarchs" and "Smart Gardening to Deter Deer."
Learn about the Gardening in Michigan website and information that can be found there, including tips on growing vegetables and fruits, and preserving food. You will also find information about the Master Gardener Program and upcoming Master Gardener classes.
While at the Lansing Home and Garden Show, plan to attend one of the gardening seminars presented by MSU Extension educators.
Thursday, March 16, seminar:
6 p.m., Growing Backyard Fruit
Friday, March 17, seminar:
5 p.m., Pollinators: More Than Just Bees
Saturday, March 18, seminars:
2 p.m., Smart Tree Selection
6 p.m., Butterfly Friendly Landscapes
Sunday, March 19, seminars:
12 p.m., Growing Herbs for Smart Gardens
2 p.m., Vegetable Gardening Tips for Smart Gardeners
We look forward to seeing you at the show and sharing gardening tips with you to make 2017 your best gardening season ever.
The Lansing Home and Garden Show is held at the MSU Pavilion on the corner of Farm Lane and Mt. Hope Road in East Lansing, Michigan. Parking is free. Single day tickets are $9 for adults, children 6-14 are $4 and under 5 are free. Hours for the show are 3 p.m. until 9 p.m. on Thursday, noon until 9 p.m. on Friday, 10 a.m. until 9 p.m. on Saturday and 10 a.m. until 5 p.m. on Sunday.