Smart gardening resources for Michigan gardeners
Michigan State University Extension provides live and online smart gardening resources for new and experienced gardeners.
Whether you are looking to save money, love fresh flavor or just enjoy working with nature, Michigan is a great place for growing fruit, vegetables, flowers and other landscape plants. New and seasoned gardeners alike are bound to have gardening questions at some point. Whether you're wondering what your local frost-free date is, how to take a soil sample, what native plants are well suited to your garden, what's causing holes in your zucchini leaves, or have another gardening dilemma, contact the gardening experts at Michigan State University Extension for science-based answers to your questions.
The MSU Extension consumer horticulture staff has developed several tools aimed at providing answers to your questions when you need them. In fact, you can ask the experts your gardening questions 24/7!
Toll Free Lawn and Garden Hotline: 1-888-678-3464 (1-888-MSUE-4MI)
Staffed by MSU Extension consumer horticulture educators and Master Gardener volunteers, please visit www.migarden.msu.edu for current hotline hours, then call 888-678-3464 to have your questions answered by our hotline responder team members.

John Harville, MSU Extension Advanced Master Gardener, answers the MSU Extension Lawn and Garden Hotline.
Photo Credit: Rebecca Finneran, MSU Extension
The Gardening in Michigan website is one you won't want to miss! Gardening in Michigan houses a plethora of resources tailored for beginning and advanced gardeners in Michigan. Sections focus on vegetables, fruit, flowers, trees and shrubs, lawns and soil with numerous fact sheets for each subject area. There are also over 30 online gardening classes and short, topic-specific videos for more in-depth learning experiences.
Soil Test Self-Mailer and Soil Test Interpretation website (www.msusoiltest.com )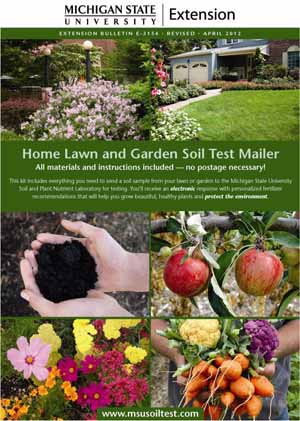 With increased interest in home garden soil testing, MSU Extension offers an easy-to-use soil test self-mailer kit coupled with a user-friendly soil test interpretation site. The soil test kit can be obtained online from the MSU Extension Bookstore or from your local county MSU Extension office for $25. The test will determine your soil type, pH, level of organic matter and existing levels of phosphorus, potassium, calcium and magnesium.
You will receive an email about two weeks after your soil sample is received by the MSU Soil and Plant Nutrient Lab letting you know your results are available at www.msusoiltest.com. This interactive website will provide customized fertilizer recommendations for your specific garden area, instructions on correct application and links to additional resources. There is also an area calculator that helps you determine how many square feet you need to apply fertilizer and a fertilizer calculator. This will help ensure you apply the correct amount of fertilizer for your plants without harming the environment.
Ask Extension
The Gardening in Michigan and MSU Soil Testing websites feature an Ask Extension widget on the home page where gardeners can electronically submit questions to horticulture experts at land grant universities across the nation.
To ask your questions, go to the Gardening in Michigan or MSU Soil Testing websites and look for the Ask Extension box on the front page to type in your question. You can also easily upload images to help show the garden problem you're seeking an answer to. Answers typically arrive within 48 hours via e-mail along with links to additional information. Each answer is based on research, so you can be confident that it is accurate and unbiased.
For more information on a wide variety of smart gardening articles, or to find out about smart gardening classes and events, visit www.migarden.msu.edu.