Snacks are an important part of healthy eating
Healthy snacking can keep your energy up throughout the day.
It's 3 p.m. and you're starting to feel a little hungry. Do you suffer through until you get out of work and hit the closest drive-thru? Michigan State University Extension recommends a healthy snack to ease your hunger and provide you with the nutrients that your body needs. Snacks should be eaten between meals. Some people prefer to have several small meals throughout the day, but others lean toward the traditional three square meals per day. A daily diet with healthy food and snack choices should provide you with energy to get you through the day.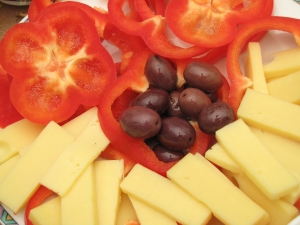 A healthy meal consists of three of the five food groups. Use MyPlate to guide your selections from the dairy, protein, grain, vegetable and fruit groups. A healthy snack should include choices from at least two of the five food groups. Be sure your daily meal and snack choices include a variety of food groups for maximum vitamin and nutrient intake. ChooseMyPlate.gov provides a chart for snack ideas from each food group.
Snack ideas from each food group
| | |
| --- | --- |
| Grains | Dry cereal, whole grain crackers, mini rice cakes, sliced bread, mini bagels, graham crackers, whole wheat tortillas |
| Vegetables | Veggie "matchsticks" (thin sticks) made from fresh carrots* or zucchini,* bell pepper rings, cherry tomatoes*, steamed broccoli, green beans, sugar peas, avocadoes |
| Fruits | Apple slices*, tangerine sections, strawberry halves, bananas, pineapple, kiwi, peach, mango, nectarine, melon, grapes*, berries, dried apricots* |
| Dairy | Low-fat cheese slices or string cheese, mini yogurt cups, fat-free or low-fat milk, low-fat cottage cheese |
| Protein Foods | Egg slices or wedges, peanut butter*, bean dip, hummus, slices of lean turkey* or chicken*, shelled pumpkin seeds |
*If not prepared correctly, these foods could be choking hazards. For more information on choking hazards click here.
ChooseMyPlate.gov provides 10 MyPlate snack tips for parents. These snack tips are not just good for children but also adults. Pre-plan and select your between meal snacks to avoid eating processed, convenient foods from vending machines. For example, grab a piece of fruit with some nuts for a morning snack and have fresh, sliced veggies with some hummus for an afternoon nibble. Snacks will provide you with energy to keep your mind sharp and your stomach satisfied between meals.
Plan to enjoy a glass of water with your snack. Water will help you to feel full and also keep your body hydrated throughout the day. A sugary soda may give you a boost for a while, but the sugar and caffeine will not stay with you like a glass of water and a healthy snack.
Next time you're feeling sluggish between meals, consider grabbing a healthy snack. Choose foods from two food groups to keep your tummy satisfied and provide your body with the nutrients it needs to stay energized.