So you want to take a selfie? Use photovoice to tell your story
Photography is growing as a form of creative expression. Photovoice takes it one step further, using photography as a form of storytelling, empowerment and igniting community change.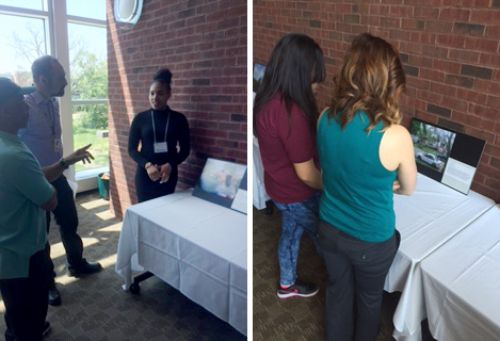 Participatory photography, from here on out to be referred to as "photovoice," is traditionally a community-based participatory research method. That said, its uses go beyond data collection to community empowerment. Its best use is with historically unheard populations – people whose voices are not normally invited or included at the table – and should be 100 percent participant driven. Your role as a facilitator would be to help equip participants with context, skills and tools for taking photos that best represent the story they are trying to share – their perspective about their community, however they define community.
The process for a facilitator goes like this:
Introduction. Introduce photovoice as a process, talk about ethics and responsibility, identify community "power people" and using photographs as vehicles for storytelling. This stage should also include basic photography composition techniques and participant time to practice those techniques. From this meeting on, participants should be documenting strengths (things worth celebrating) and opportunities (things they'd like to change) in their communities.
Visual literacy. More trust-building as a group and using "found photographs," i.e., ones they did not take themselves, to talk more about photos as storytelling tools, being intentional and learning more about how to talk about the messages photos give to each of us as unique individuals.
Photo selection and showcase planning. Each participant brings their top 10 or less photographs, ideally printed (facilitators can help with this if printing is a barrier), to talk with the group about the stories they represent and what they feel (individually) is the most important to share. Once top one or two photos are selected for each individual (number depending on total number of participants), the group revisits the power people list, works to develop an invitation letter and identify a location, date and time for their showcase.
Reflective writing. Each participant brings back their top photo and goes through reflective writing stations to help process their story. Adding a written component to the display of the photographs is a way to ensure their story is being told the way they want, even after the showcase when they're not onsite. (It can be great to have the photos displayed in a community place for longer than just one day, and the writing helps ensure story accuracy when participant-community discussion isn't viable.)
Showcase. After logistics and invitations to power people are sent, participants host their community showcase. Photos are displayed and participants use their photos as tools to facilitate dialogue with the people they've chosen to invite. It is during this last phase that we hope the largest impacts are made on participants. Throughout the process, participants will have developed a series of skills, a sense of self-worth and hopefully a commitment to their communities. The showcase allows them to share all they have learned, along with the stories they'd like to tell about their communities, with people who have inherent power and influence to make a change.
If you are interested in more general information, check out "What is photovoice and why is it valuable?" and "How to implement a photovoice project in your community" by Michigan State University Extension. Also, keep an eye out for additional articles in this series, which will expand on photography composition techniques, visual literacy activities and reflective writing.
MSU Extension and the Michigan 4-H Youth Development program helps to prepare youth as positive and engaged leaders and global citizens by providing educational experiences and resources for youth interested in developing knowledge and skills in these areas. To learn about the positive impact of Michigan 4-H youth leadership, civic engagement, citizenship and global/cultural programs, read our 2015 Impact Report: "Developing Civically Engaged Leaders."
Other articles in series