Soil compaction and its impact on the bottom line
Understanding soil compaction and its impacts can yield big savings for farmers. Soil compaction will be one of the topics of discussion at MSU's Agriculture Innovation Day.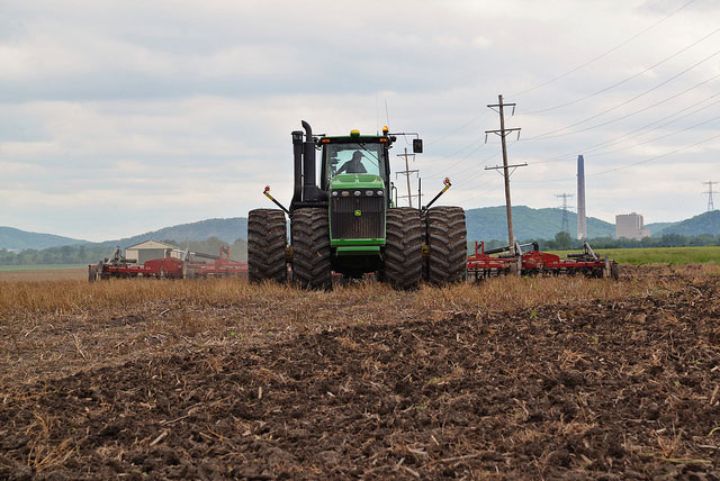 When James Crouch tells a farmer compaction is a major issue he often gets a slight nod of approval. When he tells the same farmer that they could boost yield by as much as 4 percent with the simple act of changing to a different tire, the slight nod disappears and the questions come quickly.
Crouch works for Michelin as the North American farm segment marketing manager, and having a farmer go from a vague understanding to an interest in taking steps to change their business practices is his job.
His role is educational, more interested in research reports and financial studies than marketing surveys. Crouch travels the continent doing workshops, educational demonstrations and visiting research farms, and the data becomes clearer everyday – farmers can save big money if they take the issue of compaction seriously.
"It's hard for people to understand the connection between air pressure and yield or tires and yield – that is the gap I'm trying to fill in. Once a farmer gets that, it all clicks into place," Crouch said.
Michigan State University (MSU) will host its first MSU Agriculture Innovation Day: Focus on Soils on Aug. 24, 2016, at the Saginaw Valley Research and Extension Center in Frankenmuth, Michigan. During the event, Crouch will speak with farmers and researchers about compaction and just how much it can benefit a farmer's bottom line.
Compaction is caused by the ever-increasing weight of the efficient, but enormous, equipment found on today's farms. Compacted soil has less air, is less porous and causes roots to spread out, all having a major effect on crop yield.
"Farmers realize that soil compaction is an issue. They see the equipment getting gigantic. They know it's a problem but they don't' know what it means," he said.
Crouch will be showing the effects of compacted soil, sharing research data on improved yield and sharing tips on how farmers can lessen compaction and boost yield on their farm. And the changes necessary are not always difficult, Crouch said.
It starts with air pressure, and research showing that at least 70 percent of tires are overinflated, according to Crouch. "It doesn't matter if you have two acres or 30,000. Just check the air pressure on your tires. It's free and maintaining the proper air pressure will instantly lessen compaction."
Another method is to actually swap out standard radial tires for tires classified IF or VF, for increased flexion and very high flexion. These tires can lower inflation pressure as much as 40 percent and research shows they boost yields from 2 to 4 percent.
The last method is a relatively new technology for the North American market called a central tire inflation system, which Crouch will discuss during the workshop. It uses advanced technology to maintain a constant amount of air pressure and minimize compaction.
"We talk about soil compaction all the time, but now we can attach yields and dollar figures to it. We can actually make it tangible for the farmer and show what a difference it can make in their operation," Crouch said.
Crouch is one of many speakers set for MSU Agriculture Innovation Day: Focus on Soils, which will provide opportunities to learn the latest research on compaction, nutrient management, soil quality and tile technology. MSU Agriculture Innovation Day is slated to become an annual event that will focus on in-depth education on a single topic. The event will rotate to various locations throughout the state. Experts will deliver innovative information to help producers take the next step in improving their bottom line while maintaining environmentally sound practices on their farms. To learn more about the event and the sessions being offered, visit msue.msu.edu/msuaginnovationday.
Did you find this article useful?
---