Solar power case study: King Orchards Fruit Co. LLC
Farm powers bakery and retail store with solar energy.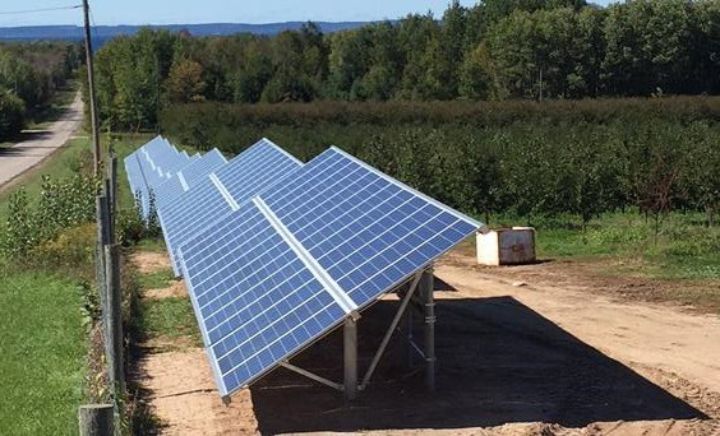 King Orchards Fruit Co. LLC is a large fruit producer and processor located in Antrim County, Michigan. Across 400 acres, the farm grows cherries, apples, peaches, pears, apricots, raspberries, plums and nectarines. Two retail stores, a cherry juice concentrate processing facility, as well as a farmers' market and u-pick operations provide markets for the fruit they grow. The farm uses a lot of electricity and the owners felt a solar power system would help them save on energy costs.
Over the period of several years they examined their options. In 2015 a fixed, ground-mounted solar array with a vibrated I-beam structure was installed. 208 250 W modules were attached to the structure, generating a total of 52 kW of electricity. The system was installed by Harvest Energy Solutions using SolarWorld solar panels and Fronius inverters. Harvest Energy Solutions completed all the paperwork and contract labor requirements. Little involvement was required of the owners during the installation process, which began September 14, 2015 and was completed September 25, 2015. King Orchards worked on the interconnectivity of their solar energy system to the electrical grid with Great Lakes Energy and reported they were easy to work with.
The solar array powered Creswell Market, King Orchards' bakery and retail store. Though this retail outlet was not the largest energy draw within their operation, the owners agreed that the seasonal operation of the store (May through November) would be best complemented by electricity generated by the solar array. The solar energy system has been in operation since September 25, 2015 and there have been no issues or adjustments made to the system by either the owners or Harvest Energy Solutions.
King Orchards pays an effective rate of $0.105/kWh for electricity, which is the value of electricity produced when used directly by the farm. Excess daily production can be sold to Great Lakes Energy at $0.035/kWh; however, this option is not expected to occur since the farm uses more electricity than the capacity of the solar system. Great Lakes Energy allows the farm to bank excess electricity produced during the day back onto the grid for use on days when the system doesn't produce enough to meet the electrical needs of the farm and credits their account at $0.06/kWh. Thus, the system generates a greater energy dollar savings from decreased energy consumption from the grid as compared to excess energy production being banked to the utility for future credit.
The total cost of the solar project, including permits and utilities, was $195,404. Funding for the project was received from a USDA Rural Development REAP grant and the Michigan Farm Energy Program, plus a 30 percent tax credit. The project has a 5.2 year payback period. No major additional costs or financial constraints have emerged during or since the system was commissioned to cause the project to deviate from the initial predicted payback period.
The owners at King Orchards have received positive feedback from neighbors and customers alike regarding their pursuit of renewable energy. The owners plan to publicize their solar energy system on their website and other outlets to promote and increase awareness of renewable energy and its benefits, especially during special events and holidays such as Earth Day.
A full specification sheet of the solar energy system as well as an aerial view of the system and surrounding property, monthly data of actual and predicted electricity production, and the solar energy system cost breakdown can be accessed in the King Orchards Case Study. Monthly production data for 2017 will be included in the updated version of this case study by the end of the year.
This information is for educational purposes only. Reference to commercial products or trade names does not imply endorsement by MSU Extension or bias against those not mentioned.
Source: Thelen, Jackie and Go, Al (2016). Solar Energy Implementation Case Study - Black Star Farms. Michigan Farm Energy Program. Michigan State University, East Lansing, MI 48824.
Additional articles in this series:
Did you find this article useful?
---