Southeast Michigan Crop and Pest Management Update meeting on Feb. 8
The Crop and Pest Management Update in southeast Michigan will help growers and agribusiness professionals prepare for the 2022 growing season.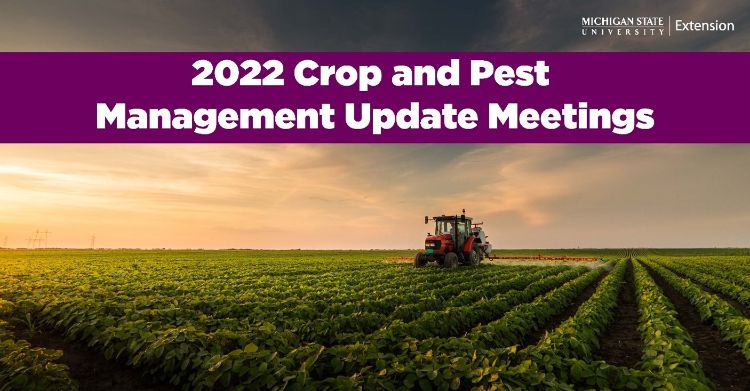 Field crop producers, consultants and agribusiness professionals are invited to attend the 2022 Southeast Michigan Crop and Pest Management Update on Tuesday, Feb. 8, at the Family Center at Immaculate Conception Parish, 21 Ann St., Milan, MI 48160, hosted by Michigan State University Extension. This location is conveniently located just 15 minutes north of Cabela's and 15 minutes south of I-94. Participants will hear MSU Extension specialists present the latest recommendations for managing weeds, diseases and insects and learn about current research in crop management and soil health topics.
Agenda
The meeting will begin with check-in and a light breakfast at 8:30 a.m. and conclude by 3 p.m. Educational sessions will begin at 9 a.m. and include the following:
Christy Sprague – Soybean Weed Control Update
Marty Chilvers – Managing Tar Spot in Corn
Kurt Steinke – Nitrogen and Fertilizer Prices and Crop Needs
Dean Baas – Managing Cover Crops for Weed Control and Soil Health
Manni Singh – Cropping Decisions for 2022
Erin Burns – Corn Weed Control Update
Lyndon Kelley – Water and Irrigation Use in Field Crops
Cost
Cost is $35 per person and includes a light breakfast of coffee, juice, fruit and rolls and a beef barbeque lunch served by Back in the Day catering. Attendees will receive a copy of MSU Extension bulletin E-434, "2022 Weed Control Guide for Field Crops," and the newly updated "MSU & OSU Insect Management Guides for Field Crops," both due to generous support from Michigan Soybean Committee, Michigan Wheat Program, and Corn Marketing Program of Michigan.
Credits
Attendees can earn six Michigan pesticide recertification (RUP) credits and five Certified Crop Advisor credits (1SW, 2PM, 1CM, 0.5PD, 0.5SSp).
Registration
Pre-registration is required to ensure an accurate count for meals and materials. Registration will close one week prior to the event date, so please plan accordingly.
Register for the Southeast Michigan Crop and Pest Management Update Meeting
For more information, contact the St. Joseph County MSU Extension office at 269-467-5511, Eric Anderson at eander32@msu.edu or 269-359-0565, or Ned Birkey at 734-260-3442.