Southeast Michigan field crops update – June 10, 2021
The Twilight Field Crop Day will be June 23 at Monroe County Community College from 6 to 8:30 p.m.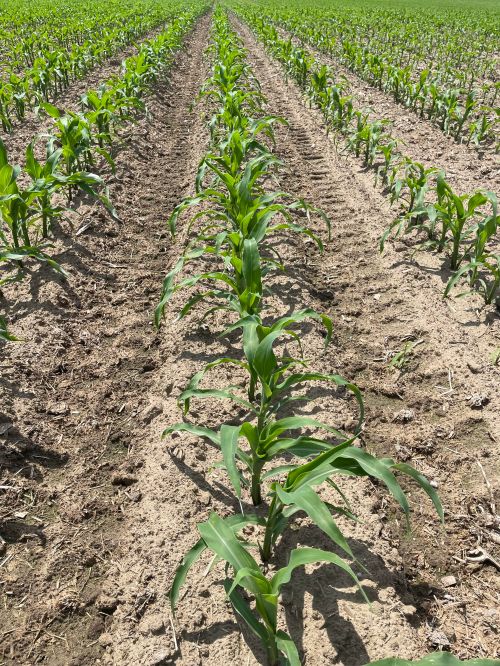 Weather
The Michigan State University Enviroweather station located in Deerfield has rainfall totals since April 1 at 4.4 inches, about 50% less than last year. This is far below the 11 inches received in 2019, 9.18 inches in 2018 and well below the five-year average (not including this year) at 7.99 inches. Growing degree day (GDD) totals for this year are higher than any of the previous five years, with 879 GDD base 50 degrees Fahrenheit recorded this year since March 1, compared to 697 GDD last year, 631 GDD in 2019 and the six-year average of 765 GDD. There are several pest prediction models based on temperature accumulations at the Enviroweather website for seed corn maggot, cabbage maggot and European corn borer.
MSU's Jeff Andresen is forecasting cooler and drier than normal weather through much of next week. Purdue's Beth Hall is suggesting that June and the June-July-August period are only slightly favoring above normal precipitation.
Corn
White leaves of some area corn plants are often blamed on herbicide injury with Group 13 and 27 pigment inhibitor herbicides. The same symptoms can also occur on corn that has had significant root burn caused by anhydrous ammonia application or frost of the past two weeks ago. Another possibility is young corn plants that have been under environmental stress, affecting poor root development.
Sidedressing is the most economical way to provide nitrogen to growing corn plants, particularly as the corn plant shifts its nutritional dependence to the nodal root system, the photosynthetic capacity of the plant begins to increase and leaves take on the characteristic dark-green attractive color. Anhydrous is a liquid at -28 F and turns gaseous at higher temperatures. Farmers applying this form of nitrogen should always monitor the wind direction so they can turn the tractor upwind in case of a hose rupture and avoid the very hazardous gas. A gallon of water in the cab or platform of the tractor can help minimize any anhydrous burn on the skin or eyes as an emergency first aid treatment until the person can obtain other first aid.
An anhydrous "spill" of at least 100 pounds (18 gallons) needs to be reported to the county Emergency Operations Center through a 911 phone call. Also, report a spill to MDARD at their Pollution Emergency hotline at 800-405-0101 and the MDEQ Pollution Emergency Alerting System (PEAS) at 800-292-4706. PEAS must be called if the release reaches water of the state, which includes drainage ditches. For more information google "Emergency Planning for the Farm" or MSU Extension bulletin E-2575.
Soybeans
Seedcorn maggot can ravage soybeans, even varieties with a seed treatment. MSU Extension entomologist Christine DiFonzo suggests when replanting soybeans, no treated seed should be necessary. A maggot infestation was likely due to a combination of attractive conditions and delayed emergence in cool soils.
Farm safety
Over the past week, farm tractors have been on major county roads without the required slow-moving-vehicle (SMV) emblems. Also required are red reflectors on the outboard edges on any implement of husbandry. Motorists should take every precaution with heavy, slow moving farm equipment, which can legally travel on local roads and state highways. Farm tractors can travel at all hours of the day or night, if properly equipped with the required minimal lighting. Persons operating an implement of husbandry shall follow all traffic regulations and drive so-as-to minimize the interruption of traffic flow.
The Michigan Farm Bureau publishes a Michigan Farmer's Transportation Guidebook. This guidebook contains a wealth of information about trucks, vehicle information, driver requirements and farm related equipment.
Twilight Field Crop Field Day
A Twilight Field Crop Field Day will be held Wednesday, June 23, 2021 at the Monroe County Community College Student Ag Farm, 1555 South Raisinville Road, Monroe, MI 48161, from 6 to 8:30 p.m. This event is free to all area farmers and others interested in agriculture. The event is sponsored by the Agriculture Advisory Council, Monroe County Farm Bureau, Michigan Soybean Committee, Monroe Conservation District and Monroe County Community College. Reservations are requested for a meal count and can be made to the Monroe Conservation District by phone at 734-241-8540. The deadline for reservations is Monday, June 21.
Projects toured include an early planting versus late planting soybean project by Manni Singh, a cover crop and soybean nematode suppression project by George Bird and corn, soybean and cover crop nematode projects by Marisol Quintanilla and Sita Thapa. Two pesticide recertification credits, CCA credits and MAEAP Phase I credit will be requested.
MSU Weed Tour
The 2021 MSU Weed Tour is scheduled for Wednesday, June 30, at the MSU Agronomy Farm, 4450 Beaumont Road, Lansing, MI 48910. Preregister by June 27. The cost is $30 per person, which includes a tour booklet and lunch. Coffee and check-in begin at 8:30 a.m. The tour of weed control for corn and soybeans will be held from 9:30 to 11:30 a.m.
Adapted from Field Crop IPM Report published by Ned Birkey, Spartan Agricultural Consulting, LLC