Southeast Michigan field crops update – May 14, 2021
Based on the 10-day forecast, you shouldn't expect frost for the remainder of spring.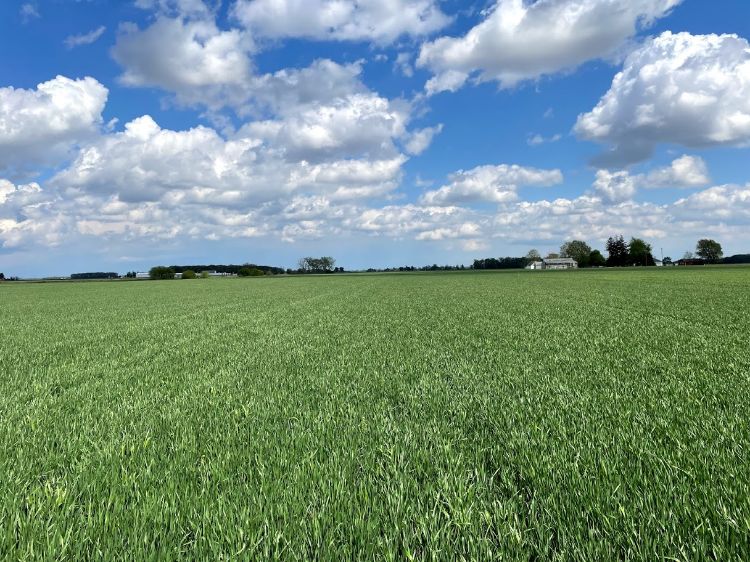 Weather
The weather is finally cooperating, and fieldwork can resume after about 2 inches of rain fell over the past 10 days. Based on information received from the Michigan State University Deerfield Enviroweather station, growing degree day (GDD) (heat units) are the highest of the past six years at 418 GDD base 50 degrees Fahrenheit since March 1. We have accumulated 542 GDD base 41 F (since March 1) for alfalfa and alfalfa weevils will be feeding. Rainfall since April 1 totals 3.12 inches, more than last year but less than half of each of the previous three years of 2017, 2018 and 2019.
Based on the 10-day forecast, the light frost on Thursday morning, May 13, should be the last this spring season. Crop emergence has been hindered by the cooler than normal early May temperatures. A difference of 10 degrees, from 60 F to 70 F, can shorten the time of emergence from planting by half, potentially from 10 days to five days.
Alfalfa
The growth and development of alfalfa is affected by many factors, including temperature, soil moisture, stand age, soil type and even variety. Using the calendar to determine when to harvest the first cutting is not the best method. The University of Wisconsin developed an accurate way to predict the optimal time for the first cutting using the Predictive Equations for Alfalfa Quality (PEAQ) method. The PEAQ method used alfalfa stand height and maturity stage to estimate the relative feed value (RFV). For more information about the PEAQ method, access the University of Wisconsin or Iowa State University websites.
Corn
Trap counts of black cutworm and true armyworm moths are increasing but remain relatively low due to the cooler weather. A rye cover crop will attract the moths for egglaying and feeding. Armyworms can often be found on the ground underneath crop debris during early morning or late evenings or cloudy days. Black cutworms or Asian garden beetles may be apparent when corn has been cut or in holes near the base of the plant. Early planted corn that is just emerging may have a bit of yellow or purple coloration that should quickly change to a nice green color with warmer temperatures.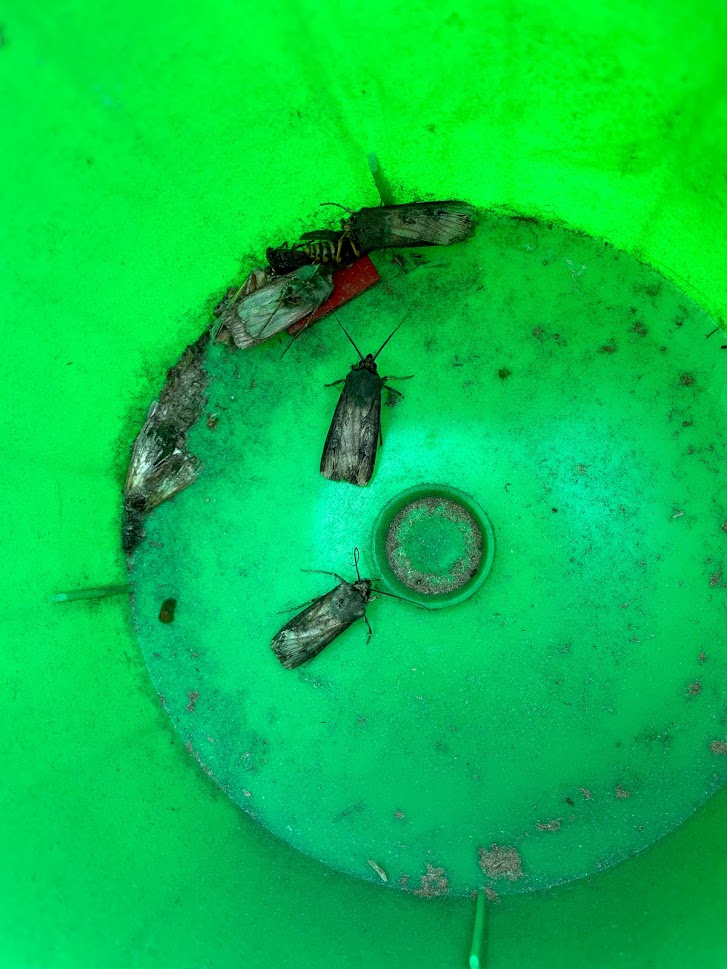 Wheat
Wheat crop is close to Feekes 9 stage in southeast Michigan counties. Overall, the crop is looking very good at this point. Herbicide and fertilizer applications have been finalized in most of the fields visited.
According to Dennis Pennington, Michigan State University Extension wheat specialist, no insect pressure has been noticed so far, while some powdery mildew and Septoria can be found. A wheat report covering more counties is released on the MSU Extension Wheat website every two weeks. If you don't see your county reported and want to become a reporter, please contact Ricardo Costa, MSU field crops extension educator, at 573-639-8971 or costasil@msu.edu.
Soybeans
Soybeans planted on April 27 at Monroe County Community College are just cracking through the soil on May 13, 16 days after the first emergence. The cooler temperatures of early May have finally given way to higher temperatures, so soybeans (and weeds) will be growing quickly now. Marestail in the same field was 4 inches tall.
On Friday, May 14, the 2021 soybean aphid suction trap season will begin and continue until Friday, Oct. 22, at the Monroe County MSU Extension office. This year, soybean aphid densities may not reach economic threshold levels since the summer forecast is for hot and dry weather conditions.
Monroe Community College Student Ag Farm
Several MSU projects will be conducted at the Monroe Community College Student Ag Farm this year. Two more MSU nematode research projects were planted this week, making four MSU projects, with a fifth to be planted next week. The malting barley plot will be heading out next week, and numerous vegetable projects can finally be planted and transplanted now that the danger of spring frost appears over for the spring season.
Field day at Monroe Community College Student Ag Farm
A summer twilight field day will be held at the Monroe Community College Student Ag Farm on Wednesday, June 23, at 6 p.m. Sponsored by the Monroe County Farm Bureau and the Agriculture Advisory Council, this event is free. It will include a porkburger supper with all the trimmings and plot tours of three MSU research projects. More details will be forthcoming about registration and COVID-19 safety guidelines.
Conservation practices grants now available for farmers in the River Raisin Watershed
Farmers can sign up for conservation practices grants such as crop rotation and filter strips before May 21. Applications are accepted on a rolling basis. Contact the Monroe, Lenawee or Washtenaw Conservation Districts to apply. Applications will be reviewed within 15 business days of submission. Please visit the Accelerating Conservation Adoption in the River Raisin website for more details.
Michigan Soybean On-Farm Research Projects for 2021
We are still looking for cooperators in southeast Michigan. If you are interested in becoming a partner, please contact Ricardo Costa, MSU Extension field crops educator, at 573-639-8971 or costasil@msu.edu to request a detailed protocol for each of the projects. There are 13 projects to choose from, ranging from planting rates to fungicide application.
This article was adapted from Field Crop IPM Report published by Ned Birkey, Spartan Agricultural Consulting, LLC.